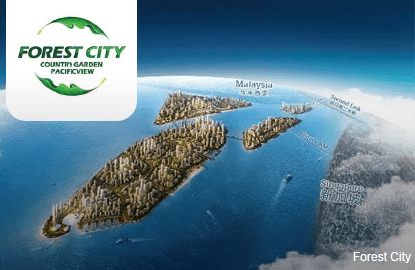 KUALA LUMPUR (Jan 22): Hong Kong-listed Country Garden Holdings Co Ltd and Esplanade Danga 88 Sdn Bhd, a Johor state-owned associate of Kumpulan Prasarana Rakyat Johor, today unveiled the much-touted Forest City mixed-use development located on four reclaimed islands in Iskandar Malaysia, Johor.
Spanning over 1,386.05ha with an estimated investment of S$58.3 billion over the next 20 years, Forest City is expected to fuel the economy in the Iskandar region and neighbouring Singapore.
In a statement today, Country Garden said its sales galleries in Johor Bahru and Singapore are now open for exclusive previews and bookings in preparation for the development's official launch in the first quarter of 2016.
"The first phase of the development will comprise condominiums and high-rise coastal residences, which will be released for global sales in Singapore, China and Malaysia in due course," it said.
"The two- to four-bedroom condominiums range from 818 sq ft to 1,915 sq ft," it added.
Forest City residences will also have access to amenities including a world-class hotel, fitness clubs and swimming pool.
Country Garden said eight industries, such as education, healthcare and tourism, will be the main economic pillars to the growth at Forest City.
"As part of the long-term planning for Forest City, Country Garden is in discussions with the Johor state government to set up dedicated entry points to Forest City such as a light rail transit system and a ferry network that links to Singapore and to the planned high-speed rail between Singapore and Malaysia," it added.
"With Forest City, we are offering a perfect mix of luxury tranquillity, urban vitality and proximity in the heart of Southeast Asia," said Country Garden chief executive officer Mo Bin.
"This is a historic day not only for Forest City, but for Malaysia, our business partners, and, just as significantly, for the global real estate industry," said Country Garden Pacificview Sdn Bhd executive director Othman Yusof.
"Forest City represents an unprecedented alliance of two powerhouses in the real estate, financial and construction industries, and signals a shifting of the sands for the futuristic township development. Forest City also represents the perfect destination for work, play and live for a global generation in Iskandar," he added.