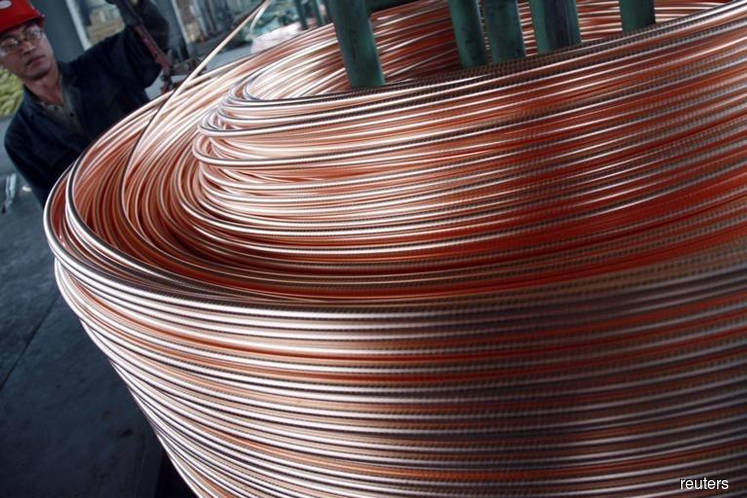 SINGAPORE (Sept 6): Copper rose for a second session on Thursday, as a weaker dollar underpinned prices even as bearish sentiment lingered, amid a trade war between the United States and top metals consumer China.
The dollar sagged on Thursday as the pound led a bounce in European currencies, making the greenback-priced commodities cheaper for importers holding other currencies.
COPPER: Three-month copper on the London Metal Exchange added 0.4% to US$5,897 a tonne by 0351 GMT and the most-traded copper contract on the Shanghai Futures Exchange rose 0.9% to 47,700 yuan (US$6,977.87) a tonne.
BUYING: "Some light buying emerged in the base metals sector, with copper and aluminium helping push the industrials sector higher," ANZ said in a report.
DOLLAR: "Sentiment was buoyed by the weaker U.S. dollar, which has been weighing on investor appetite in recent trading sessions. However, with the ongoing turmoil in emerging markets, plus weakness in the Chinese equity markets, the metals sector may struggle to hold their gains in coming days," it said.
TRADE DISPUTE: U.S. President Donald Trump said on Wednesday that the United States was not yet ready to come to an agreement over trade disputes with China but he said talks would continue.
TARIFFS: The world's two largest economies have slapped tariffs on US$50 billion of each other's goods in a tit-for-tat trade war, and Trump is considering imposing tariffs on another US$200 billion in Chinese imports.
BHP: Global miner BHP has struck a deal to pay US$35 million for a 6.1% stake in SolGold, giving it a share in the promising Cascabel copper-gold project in Ecuador, after an earlier attempt failed.
(US$1 = 6.8359 Chinese yuan)