This article first appeared in The Edge Financial Daily, on December 11, 2018.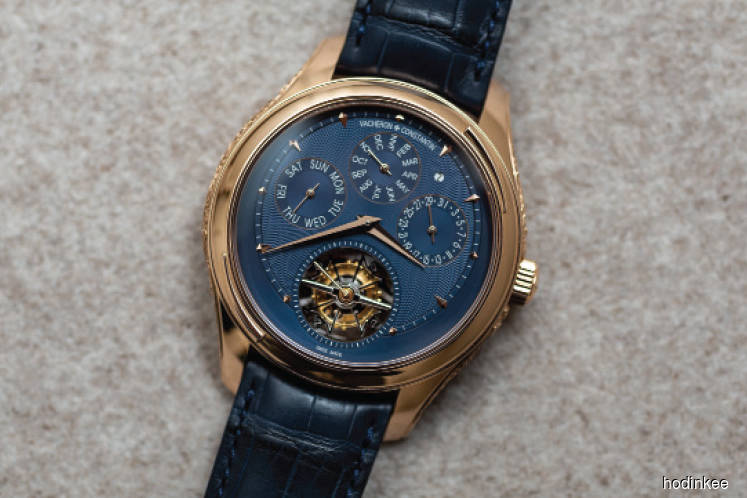 Les Cabinotiers Calibre 2755 Eagle.
Get a preview of Vacheron Constantin's inimitable Les Cabinotiers Mécaniques Sauvages collection
Shown last week in Paris, France, the following is a selection of a new collection of unique watches called "Mécaniques Sauvages" from Vacheron Constantin's remarkable Les Cabinotiers department. The department, comprising the brand's most talented watchmakers, is tasked with creating unique high complications and an array of artistic expressions including bespoke engraving and enamel work. If you want a wild one-off Vacheron that pushes the bleeding edge of handmade craftsmanship, you will need to speak to Les Cabinotiers.
Mécaniques Sauvages is a bespoke collection inspired by wild animals. From rhinos and monkeys to tigers, eagles and more, the line comprises over 20 pieces but the following is what was available after Vacheron's most ardent collectors had a chance to see the new collection. Many of the watches were sold upon viewing, with the new owners asking the watches not be subject to press photography. Here, we have examples of incredible engraving, painstaking enamel work, and impressive haute horology watchmaking. This is Vacheron Constantin creating niche expressions (all of these pieces are one-of-one creations) of their core talents, be it cutting edge or entirely old-school.  
Les Cabinotiers Calibre 2755 Eagle
45mm in warm 18k pink gold, the Calibre 2755 is not only hugely complicated, but its case flanks also carry a wonderfully detailed rendering of an eagle spreading its wings. Polished on the front face of the bezel and lugs, the Calibre 2755 Eagle is bold, but only from the sides. At first glance, it appears a standard highly complicated Vacheron Constantin.
One the right case flank, an engraving of an eagle's back. The case is rendered in a larger specification before the engraver removes gold to form the feathers — this is how you can just see the edge of the engraving from the front view of the watch.
The left case side of the Calibre 2755 Eagle showing an eagle as it stretches its wings. With great detail, this is done by hand, taking more than a month of man-hours to finish. Even if you don't want an eagle on the side of your watch, it is an incredible thing to experience.
Hard to hate this view, the Calibre 2755 with a minute repeater, perpetual calendar, 60-second tourbillon and rear power reserve. It is a thing to behold and the finishing is, as you would expect, beautiful.
Les Cabinotiers Grisaille Rhinoceros
I have seen enamel work before, and also enamel used to create an artistic image on a dial (you could almost call this common in haute horology), but this is next level work. A process of multiple firings, the enamel glows in available light and almost manages to capture the look of great black and white photography.
An engraving-ready case back again speaks to the relatively simple form of the Grisaille Rhinoceros as a canvas for that dial. 40mm wide in 18k pink gold, the Grisaille Rhinoceros is subtle and dressy, just as you expect from a classic shape from Vacheron Constantin.
Les Cabinotiers Minute Repeater Tourbillon Perpetual Calendar
It is not all eagles and rhinos; Les Cabinotiers also deals in special high-end complicated watchmaking, such as the Les Cabinotiers Minute Repeater Tourbillon Perpetual Calendar.  44.5mm wide in warm pink gold, this is a more modern take on a selection of very complicated features. As the name would suggest, we have a minute repeater, a tourbillon, and (on the rear view) a gorgeous perpetual calendar.
Les Cabinotiers Mysterious Animals Monkey
Saving the wildest for the last, this is the entirely buck wild Mysterious Animals Monkey. With an almost hard-to-believe level of detail engraved into a three-dimensional dial, this sort of artistic application is a very strong use of Vacheron's calibre 2460 G4.
The banana and jungle backdrop is engraved by hand in 18k yellow gold and the monkey is likewise rendered in 18 white gold. The four apertures show hours (top left), minutes (top right), day (bottom left) and date (bottom right). So, it is calendar on the bottom and time on the top, all without interrupting this monkey and his dinner. — Bloomberg
---
This article was first published on Hodinkee.