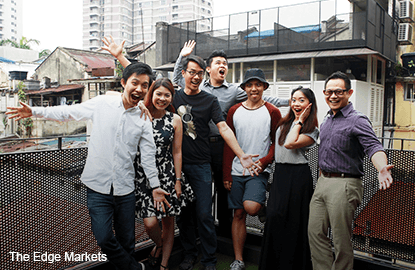 THANKS to television shows like Glee and the Pitch Perfect movie franchise, a cappella groups have gained a pop-culture cool status that it never used to have. For home-grown vocal group Tapestry, however, switching to a cappella after their first show four years ago was more a matter of convenience than anything else.
"Our first show had a full-sized live band, but now we mostly do pop-a cappella covers. Logistically it's just easier to be an a cappella group as you don't have to move things around as you travel to gigs," says the group's spokesperson, Charity Lee, 33. "We did find that there were specific challenges to singing a cappella, and we have improved in our vocals because of that," she adds.
That decision will no doubt help the group of currently 12 singers and one beatboxer, as they embark on their first local tour The Living Room Sessions, performing in Kuala Lumpur, Ipoh and Penang. Their first show, held last week at Kelana Jaya's Otherwise Café, performed to a sold-out small crowd.
The intimate setting is just what they want for this tour, which follows from the biggest show they've done late last year called Human After All at the Damansara Performing Arts Centre that played to an audience of over a thousand people.
"The past few years we've had staged and choreographed theatrical-style productions, with multimedia and lighting design," says Lee during the group's interview with life+style at VCR, the venue for Tapestry's next session on Sept 11.
"We are taking a rest with this smaller, more intimate scale," chips in Nah Swee Wayne, 29. It is also the group's focus this year on diversifying their fan base and widening their scope geographically. "We had wanted to tour Ipoh last year, but we couldn't fit it in then," points out Kok Soo Aun, 40.
Lee adds, "To move 35 members of cast and crew up north was too much of a gamble then … this year we want to sing to people we've never performed to, at different venues … if it is well-received, maybe we will bring a full fledge show next time in Ipoh and Penang".
The Living Room Sessions features Malaysian composer and recording artist Juwita Suwito as guest performer, who performed in last week's show and will also join Tapestry in their show in Penang's Sinkeh Guesthouse, where they will cooperatively conduct a music workshop. The vocal group performs one of Juwita's songs for their showcase.
The one and a half hour show revisits some crowd favourites from previous shows along with new songs, as the group brings a wide-breadth of repertoire ranging from pop and rock — their core genre — to jazz, musical theatre, gospel, and soul styles. Artists they will be covering include an eclectic mix from Amy Winehouse, James Taylor, Radiohead, Michael Jackson and Five For Fighting, to name some.
Adding a richer sound to Tapestry's harmony is also 23-year-old Cody Foo aka Coex, a five-time Malaysia and Asia beatboxing champion. Joining the group through an open audition to try a different challenge, Foo brings a new level of energy and completeness, according to member Benjamin Gan, 38. "It's a different layer altogether, Cody's beats are very important, whether it is just a hi-hat here, or a snare sound," explains Lee.
In a discipline where harmony is everything, Kok shares that the group is tight-knit both
onstage and off. "There are no divas here," he quips with a smile. "We've been in groups where people fight over solos and parts, but here we decide collectively. It is different." The group, all of whom work full-time in various professions and industries, smiles in agreement, though good-
naturedly admitting to occasional complains about song choices or how hard it is to learn.
All Tapestry's cover-songs are arranged either by Lee or bought materials from overseas. "Selections of songs are mostly crafted out of the concept of the show, or to fit what we are trying to say," says Lee. "We try to structure it around positive messages. In this day and age, people need to be reminded once a in a while that, at the end of the day, we are all alike and we share certain bonds and similarities. Those are the kind of messages we try to bring."
---
The Living Room Sessions will be playing on Sept 11 at VCR, Jalan Galloway, Kuala Lumpur; Oct 9 in Sarang Paloh Heritage Event Hall, Ipoh; Oct 10 and 11 at Sinkeh, George Town, Penang. For more information and ticket details, visit www.wearetapestry.com.
This article first appeared in digitaledge Daily, on August 24, 2015.