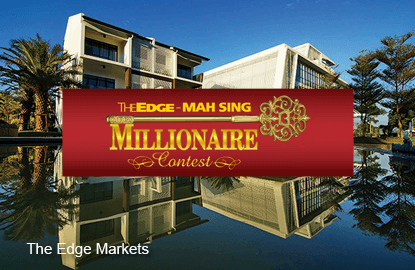 IT ISN'T every day that you get to win the home of your choice. But one lucky person will, thanks to The Edge Media Group and Mah Sing Group Bhd.
The two companies have come up with The Edge-Mah Sing Millionaire Contest, whose winner gets a RM1 million voucher for a completed residential property in any of Mah Sing's projects in Malaysia. The competition runs from June 20 to July 31 and is open to all Malaysians and Singaporeans.
"We view this competition as the biggest property industry contest in the country and we are proud to be able to collaborate with The Edge to award one lucky winner a RM1 million Mah Sing dream home. It is our first and largest-ever contest," enthuses Mah Sing group managing director and CEO Tan Sri Leong Hoy Kum.
"More importantly, we want the public to remember this as a landmark collaboration between The Edge and Mah Sing Group in making the dream of someone come true," he adds.
From June 20, participants must register at theedgeproperty.com website and have to use the Fair Value tool before moving on to the dedicated contest web page on the Mah Sing website, where they will have to take part in several online games and activities to collect tokens. The tokens offer participants a chance to be selected as one of the 21 finalists, whose names will be announced on Aug 14.
The grand finale will be held on Aug 22, where the finalists will compete against each other in a simple and engaging game at a Mah Sing's Southville [email protected] South, Bangi, before the winner is crowned.
"We hope The Edge-Mah Sing Millionaire Contest will successfully create some excitement, especially when the Malaysian property market is consolidating on lower demand because of cooling measures, chief of which are lending curbs," says The Edge Communications Sdn Bhd managing director Au Foong Yee.
"While affordably priced homes are being built by the government at the federal and state levels, the supply is neither quite sufficient nor quick enough. It was against this backdrop that we approached Mah Sing Group to collaborate with The Edge Media Group to put a RM1 million smile on a lucky person's face."
Leong agrees. "We are looking forward to see the sparkle in the winner's eyes when he or she wins the RM1 million dream home. For us, as a premier lifestyle developer, that is what we want to achieve. We want to not only build homes for people but also touch their hearts."
Coming of age
Apart from commemorating the 21-year business relationship between the two companies, the contest will, according to Leong, raise greater awareness of what Mah Sing has to offer.
Despite the many accolades earned over the years, including a Top 10 ranking in The Edge Top Property Developers Awards repeatedly, he does not believe the company has made it yet.
"We still have a lot of things to improve on and we continue to build our people to take us to the next level ... After 21 years, we are still a very young company. No doubt we have achieved success, [but] there are still a lot of challenges ahead," he says. "This contest is a good platform for us to showcase to the public our varied residential products and to educate the public on how we have grown in the past 21 years."
When asked what advice he would give the winner of the contest if he or she asked him where to select a home, he says, "It really depends on the individual's preference and choice when it comes to a dream home. Some might value location more than size while others may think otherwise. For example, if you're a first-time homeowner starting a small family, you might want to consider Avens Residence in Southville City, KL South. It provides ample space with its 22ft by 75ft, 3-storey link homes that have an average price of RM980,000.
"On the other hand, if you're looking for your second or third home for investment, you could consider Aspen at Garden Residences in Cyberjaya, which comprises 3½-storey bungalows with a built-up of about 7,796 sq ft and priced at RM3 million. This is indeed a good opportunity as the RM1 million grand prize will essentially subsidise about 30% of your investment."
Besides presenting Mah Sing's extensive range of products, the contest will also provide participants an opportunity to try out theedgeproperty.com Fair Value tool, which allows them to find out the fair value of any property based on actual transacted prices.
"theedgeproperty.com's full range of analytical tools comprises indicative valuations, past transactions, rental rates, trends and hot spots and new project launches. There are no comparable property platforms around in terms of comprehensiveness, and free for all to use," explains Au.
"Ultimately, our goal is to democratise property investment and help users make better decisions. Hence, we hope that with the contest, we will be able to get the word out in the market quickly that there is this website called theedgeproperty.com that is the answer to all their questions on property, be it to buy, sell or rent."
The website was officially launched in Malaysia on May 7 while the Singapore site is expected to be launched on July 25, Au adds.
Besides the Fair Value tool, the property portal also provides breaking news, property listings, research data and analytics and details of new launches. There are also community services, such as feng shui, legal and home fixes.
"theedgeproperty.com is not your typical internet technology business. We are not into disrupting existing businesses with the hope that consumers will one day pay for the services. Rather, theedgeproperty.com works with existing stakeholders to help them build their business using technology as an enabler, so that everyone — consumers, property agents, developers, banks and other businesses — wins."
The Edge-Mah Sing Millionaire Contest hopes to re-ignite interest in the softening local real estate market by giving away a million ringgit voucher to spend on a dream home. Good luck to all contestants!
This article first appeared in City & Country, The Edge Malaysia Weekly, on June 15 - 21, 2015.