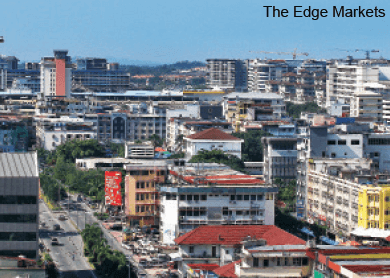 PRICES on the Kota Kinabalu secondary market are expected to continue rising, albeit at a slower pace, in the coming months.
Rahim & Co's Sabah branch manager Max Sylver Sintia, in presenting The Edge/Rahim & Co Housing Property Monitor 1Q2015, says, "Prices are much too high at present while development is moving outwards. However, the influx of job seekers into Kota Kinabalu from other areas will sustain the market."
Affordability is the main problem as wages are not keeping pace with property prices, Max adds.
The KK property market grew both quarter on quarter and year on year in 1Q2015 while the primary market saw more launches compared with 4Q2014, especially of landed residential developments.
Still, says Max, developers and buyers have adopted a wait-and-see attitude and he expects this to last until the end of the second quarter.
Outskirts gaining interest
With the opening of Oceanus Waterfront Mall and Gleneagles Kota Kinabalu, Sintia expects the southern part of the city to turn into a commercial area. "Also coming up in the area is Sutera Avenue by Mah Sing Group Bhd," says Max. "Construction on the integrated project has already begun."
Developments that have moved to the outskirts of KK include Palm Condominium by WSG Group. It will be the first high-rise project in Kinarut, which is about 20km to 25km away from the city.
Phase 1 of Palm Condominium was launched in 2013 and Phase 2, comprising 256 units, opened for sale in the middle of last year. With built-ups of 730 to 3,430 sq ft, they are priced from RM271 psf to RM492 psf. Their take-up so far is 75%.
Another development on the fringe of the city is Taman Rimba Phase 3 in Jalan Tuaran, Menggatal, by Wah Mie Group. The 171 two-storey terraced houses have a built-up of 1,498 sq ft and are priced at RM558,000. The project was launched last year and is 50% sold.
Coming up slightly off the city centre in Kobusak, Penampang, is D'Golden Gate Condominium by AJ Alliance Property Sdn Bhd. Launched at the end of last year, it offers 48 units at RM790,000 to RM1.8 million and is 50% sold.
The take-up of these developments shows that investors are still buying homes outside the city, Max points out.
Strong secondary market
In terms of price growth, hot spots to watch on the fringe of Kota Kinabalu are Putatan, Penampang, Kinarut and Jalan Tuaran. The values of existing homes in these areas are rising slowly but surely, although the gap between the prices on the secondary and primary markets is still wide.
Single-storey terraced houses saw an average price growth of 9.35% or about RM26,600 y-o-y in 1Q2015, which was better than the average 8.99% recorded in 1Q2014.
The highest y-o-y price growth was seen in Taman Nelly Ph9 (+10% to RM330,000) and Taman Tuan Huat (+10% to RM275,000). Q-o-q, the overall average price growth of 1-storey terraced house was 3.33%.
Max expects the values of 1-storey terraced house to keep rising because 2-storey terraced houses cost much more both on the primary and secondary markets.
Existing 1-storey terraced houses in areas closer to the city centre, such as Luyang, have larger land areas of more than 2,200 sq ft (intermediate units), making them very attractive to homebuyers. The asking price for non-intermediate units with land areas of 3,000 to 4,100 sq ft is as high as RM800,000.
Apart from being cheaper than other house types, 1-storey terraced homes offer buyers more options when it comes to renovation and extension, says Max.
Currently, extended and renovated 1-storey terraced houses in Luyang are going for more than RM600,000.
Existing 2-storey terraced houses in Jalan Tuaran and near Taman Rimba are going for an average price of RM400,000. By comparison, those in Phase 3 of Wah Mie's Taman Rimba are priced at RM558,000.
Two-storey terraced houses recorded an average price growth of 8.24% or about RM36,500 in 1Q2015 compared with RM27,100 in 1Q2014. With the exception of Taman Indah Permai, which recorded a y-o-y growth of 2.9%, 2-storey terraced houses saw a y-o-y growth of more than 7.5% overall. The highest growth was recorded in Luyang Perdana (+10.42% to RM530,000), followed by Millenium Height and Taman Jindo (+10.26% and +10% respectively).
This house type continues to be much sought after in the mature areas of Kota Kinabalu, and with the limited supply of landed properties in the city centre, its strong performance on the secondary market is expected to continue.
Gated residential developments continue to be popular in the market. As the first such scheme in Kota Kinabalu, Luyang Perdana is reaping the benefits.
The price growth of existing houses in Jalan Bundusan and Jalan Lintas is expected to be strong as well because these are well-established residential areas with good infrastructure and close proximity to commercial areas and public amenities, such as mosques, churches and schools.
Here, the average price growth of 2-storey terraced houses was 1.67% (about RM7,800) in 1Q2015, up slightly from 1.52% in 4Q2014. The highest q-o-q growth was recorded in Ujana Kingfisher and Millenium Height (+2.38%). Q-o-q, price growth was a marginal 0.04%.
High-rise residences
The average price of condos in KK rose 4.59% q-o-q to RM476 psf in 1Q2015 and a slower 2.74% y-o-y.
1 Borneo Condominium and Jesselton Condominium were the best performers y-o-y with prices rising RM20 psf to RM360 psf at the former and RM30 psf to RM540 psf at the latter. With the exception of Likas Square, Alam Damai and Radiant Tower, the other condominiums sampled by the monitor recorded above-average growth.
Overall, condo prices grew 0.93% in 1Q2015 compared with 0.75% in 4Q2014. Except for Jesselton Condominium, Alam Damai and The Peak Condominium, which saw a price growth of 1.9%, 2% and 3.5% respectively, the rest of the condominiums sampled by the monitor did not register any q-o-q growth.
Nevertheless, due to escalating land and development costs and the scarcity of suitable sites for landed residential projects, condominiums are expected to fare well. Harrington Suites by Interland Properties Sdn Bhd in Luyang, which is expected to be completed in 2016, is priced at RM700 psf to RM900 psf. Existing condos in the area are going for RM500 psf to RM600 psf.
Rental performance
Rents for 1-storey terraced houses grew an average 11.31% y-o-y with Taman Tuan Huat registering the highest (+14.29% from RM1050 per month in 1Q2014).
Rental growth for 2-storey terraced houses averaged 4.98% y-o-y with Ujana Kingfisher posting the highest (+7.69% from RM1,300 per month in 1Q2014), followed by Taman Jindo and Millenium Height (+6.25%).
Average gross yield for 1-storey terraced houses was 5.17% (+0.086% from 1Q2014) while for 2-storey terraced houses, it was 4.27% (-0.15% from 1Q2014).
Condo rents saw an average growth of 1.85% y-o-y while their average gross yield was 4.97% (-0.04% from 1Q2014).
This article first appeared in City & Country, The Edge Malaysia Weekly, on June 1 - 7, 2015.