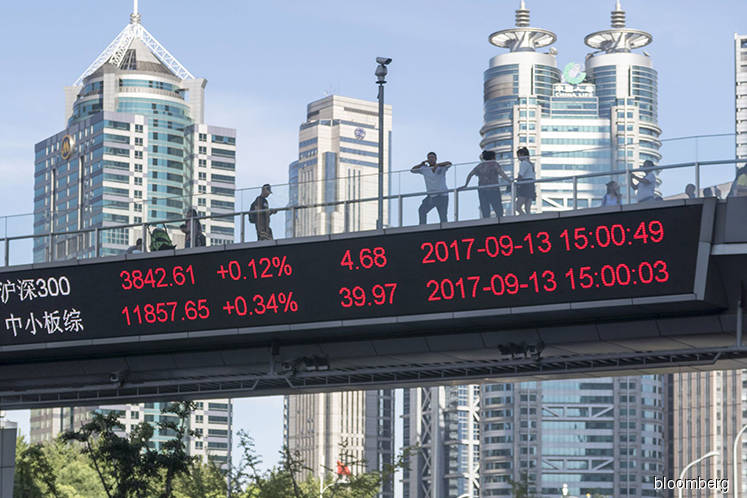 (Sept 28): Financial markets in the world's second-largest economy are set to turn listless in the fourth quarter as party officials keep a lid on volatility around a seminal Communist Party gathering.
That's the finding of Bloomberg surveys of market participants. The benchmark Shanghai Composite Index is projected to end the year 0.3 percent higher than Wednesday's close.
The yuan will be at 6.64 per dollar, similar to the current level, while the 10-year sovereign bond yield is expected to slip to 3.59 percent from 3.63 percent.
"I don't expect any big swings," said Ken Chen, Shanghai-based analyst with KGI Securities Co. "Regulators would want to ensure the markets are stable for the 19th Party Congress."
Authorities have stressed the need for stability in the lead-up to what will be China's most important political event in years. The twice-a-decade party congress, which starts on Oct. 18, is expected to replace about half of China's top leadership and shape President Xi Jinping's influence into the next decade.
The China Securities Regulatory Commission has ordered local brokerages to mitigate risks and ensure stable markets before and during the event, people familiar with the matter have said. The CSRC has also banned brokerage bosses from taking holidays or leaving the country from Oct. 11 until the congress ends, according to the people.
The scorecard for this year shows healthy gains in stocks and the currency, while bonds have fallen. The Shanghai Composite has risen 7.8 percent, recovering from a torrid 2016. Volatility, based on a 100-day measure, is the lowest in decades. Offshore equities have blazed ahead, with the MSCI China Index jumping 41 percent as technology and property shares rallied.
The yuan has climbed 4.6 percent, after falling 6.5 percent the previous year. Sovereign debt yields have been elevated in recent months after a government deleveraging campaign spurred a selloff in April and May. The 10-year yield has risen 57 basis points in 2017.
The following are the findings of the surveys:
Stocks
The Shanghai Composite will rise to 3,354 by year-end, according to the median estimate of 12 analysts and fund managers polled by Bloomberg. Large-cap banks, insurers, consumption stocks including food & beverage were among the sectors most preferred by analysts, while commodity shares including nonferrous metals, iron & steel and coal were among stocks that analysts advised to avoid.
The Hang Seng China Enterprises Index will end the year at 12,175, or 10 percent above Wednesday's close, the median estimate of six analysts and fund managers showed. Tighter U.S. monetary policy wasn't seen weighing on Hong Kong's markets in the fourth quarter, as local rates remain low, while mainland inflows via exchange links are expected to continue.
Bonds
Seven-day repo rate will average 2.885 percent in the fourth quarter compared with 2.87 percent this quarter, according to a survey of 22 fixed-income traders and analysts.
Only two of the 22 predicted the PBOC will raise the costs of reverse-repurchase agreements in the fourth quarter.
Ten predicted outstanding negotiable certificates of deposit will drop, nine expected the amount to be little changed, with the remainder opting for an increase.
Yuan
The currency will end the quarter at 6.64 per dollar, the median of estimates by analysts tracked by Bloomberg. The estimates range from 7.2 to 6.
    
Participants in the stocks and bond surveys included First Shanghai Securities Ltd., Central China Securities Co., Shanshan Finance, KGI Securities Co., Xufunds Investment Management Co., AXA SPDB Investment Managers Co., Beijing StarRock Investment Management Co., Uni-President Asset Management Corp., Capital Investment Trust Corp., UOB Kay Hian (Hong Kong) Ltd., Sun Hung Kai Financial Ltd., ICBC International Holdings Ltd., Huashang Fund Management Co., CMB International Securities Ltd., Shenwan Hongyuan Group Co., South China Financial Holdings Ltd., Fidelity International Ltd. Australia & New Zealand Banking Group Ltd., China Merchants Bank Co., Nanjing Securities Co., Shanghai Yaozhi Asset Management LLP, China Minsheng Banking Corp., Hengfeng Bank Co., SDIC Essence Futures Co., Nanhua Futures Co., U-Shine Fund Management Co.