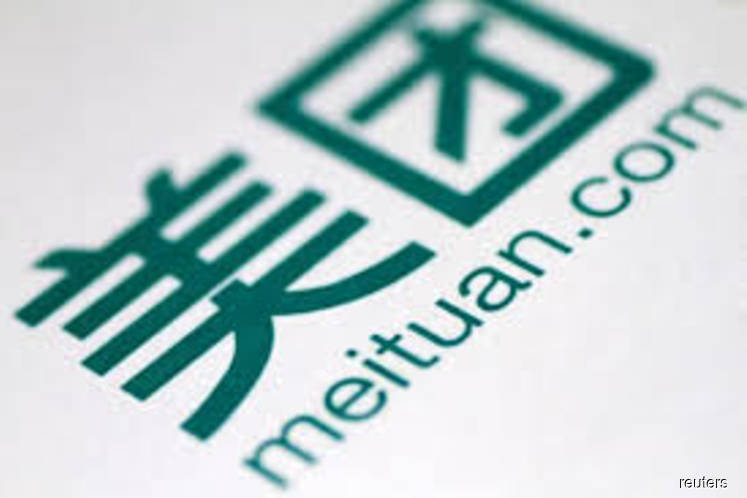 HONG KONG (Sept 6): China's Meituan Dianping, an online food delivery-to-ticketing services platform, confirmed it had filed for an up to US$4.4 billion Hong Kong IPO and said it will focus on its domestic business instead of overseas expansion in the near future.
It set an indicative price range of HK$60 to HK$72 (US$7.6-$9.2) per share for its IPO, confirming a Reuters report over the weekend and valuing itself at up to US$55 billion.
That could make it the world's biggest internet-focused float since e-commerce giant Alibaba Group's US$25 billion New York listing in 2014.
Beijing-based Meituan, which offers services ranging from movie ticketing, food delivery to hotel and travel booking as well as ride-hailing, will make its market debut on Sept 20. It was valued at around US$30 billion in a fundraising round late last year.
"There are plenty of opportunities in the overseas markets, but we have a very good customer base in China... We would like to be rooted in China and focus on the domestic market first," Meituan's co-founder and chief executive, Wang Xing, said at a news conference in Hong Kong on Thursday.
Founded in 2010, Meituan which used to be likened to US discounting platform Groupon Inc, in 2015 completed a US$15 billion merger with then main rival Dianping, akin to US online review firm Yelp Inc.
Currently, its competitors include Alibaba-backed food-delivery platform Ele.me and leading ride-hailing firm Didi Chuxing, backed by Japan's SoftBank Group Corp.
This year, Meituan invested in Indonesian ride hailing firm Go-Jek and Indian online delivery service provider Swiggy.
Co-founder and senior vice president Wang Huiwen said as the company's core strategy is "food plus platform", it doesn't plan to increase its investment in the car-hailing business.
Other business segments such as the improvement of its merchants' management system (IMS) and food supply chain are more worthy of investment, Wang Huiwen said, as they are more relevant to Meituan's core food delivery business than car-hailing.
Meituan's float is among the latest on a packed Hong Kong listing calendar for the coming months, including an up to US$1 billion IPO from top movie ticketing platform Maoyan Weying and an at least US$3 billion listing from bitcoin mining equipment maker Bitmain.
Hong Kong has seen a pickup in interest for listings after the introduction of new rules this year designed to attract tech companies with dual-class share structures.
Meituan's IPO will be the city's second multibillion-dollar tech float in 2018 after smartphone maker Xiaomi Corp's blockbuster US$4.72 billion IPO in June.
Meituan said it will sell about 480 million primary shares. Including a 15% "greenshoe", or over-allotment, option, the deal size would be US$5.1 billion.
The price range represents a multiple of 23.5 times to 28.2 times its 2020 profit forecast from its underwriting syndicate, according to Thomson Reuters publication IFR.
Meituan has lined up US$1.5 billion from five cornerstone investors for its IPO.
Its main backer, tech giant Tencent Holdings Ltd, has committed US$400 million; global asset manager Oppenheimer US$500 million; UK-based hedge fund Lansdowne Partners US$300 million; US fund Darsana US$200 million and state-backed China Structural Reform Fund US$100 million.
(US$1 = 7.8495 Hong Kong dollars)