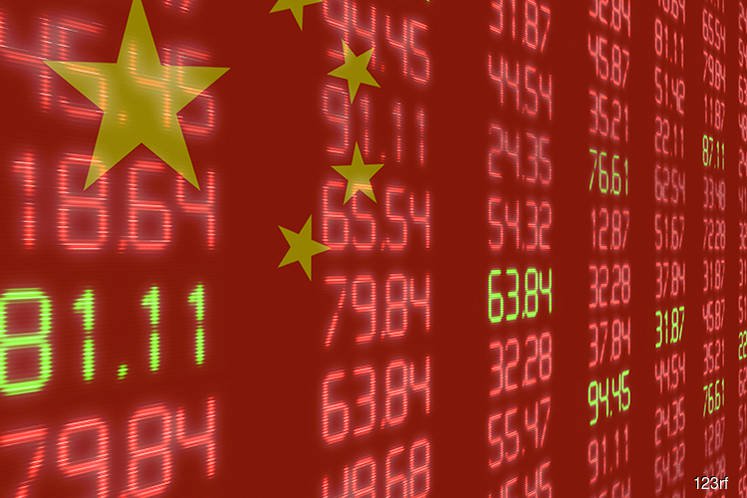 SHANGHAI (Sept 10): Stocks in China ended lower Monday after U.S. President Donald Trump threatened to impose tariffs on nearly all of China's exports to the United States, and as a tweet from Trump shook suppliers of tech giant Apple.
** At the close, the Shanghai Composite Index was down 32.81 points or 1.2 percent at 2,702.30. 
** The blue-chip CSI300 index was down 1.45 percent, with its financial sector sub-index lower by 0.94 percent, the consumer staples sector down 0.68 percent, the real estate index up 0.9 percent and healthcare sub-index down 1.85 percent. 
** Around the region, MSCI's Asia ex-Japan stock index was weaker by 1.18 percent, while Japan's Nikkei index closed up 0.3 percent. 
** Trump warned on Friday he was ready to slap tariffs on virtually all Chinese imports into the United States, threatening duties on another $267 billion of goods on top of $200 billion in imports primed for levies in coming days. 
** China said on Friday it will increase export tax rebates for 397 items ranging from some steel products to electronic ones, in a bid to boost prospects for shipments amid its trade war with the United States. 
** China's trade surplus with the United States widened to a record in August even as the country's export growth slowed slightly, an outcome that could push President Donald Trump to turn up the heat on Beijing in their cantankerous trade dispute. 
** Shares in China-based Apple concept firms fell after U.S. President Donald Trump tweeted on Saturday that Apple Inc should make products in the United States if it wanted to avoid tariffs on Chinese imports. 
** Shares in Apple suppliers Luxshare Precision Co Ltd , Shenzhen Sunway Communication Co Ltd and Suzhou Dongshan Precision Manufacturing Co Ltd ended down 10 percent. 
** The smaller Shenzhen index ended down 1.84 percent and the start-up board ChiNext Composite index was weaker by 2.41 percent. 
** China's annual consumer inflation accelerated to 2.3 percent in August, the fastest pace since February this year and beating expectations, official data showed on Monday. 
** Around the region, MSCI's Asia ex-Japan stock index was weaker by 1.11 percent, while Japan's Nikkei index closed up 0.3 percent. 
** At 07:14 GMT, the yuan was quoted at 6.8601 per U.S. dollar, 0.16 percent weaker than the previous close of 6.8492.
 ** The largest percentage gainers in the main Shanghai Composite index were Henan Pinggao Electric Co Ltd, up 10.08 percent, followed by SEC Electric Machinery Co Ltd, gaining 10.04 percent and Shangying Global Co Ltd, up by 10.02 percent.
 ** The largest percentage losses in the Shanghai index were Dynagreen Environmental Protection Group Co Ltd down 10.02 percent, followed by Jiangsu Yangnong Chemical Co Ltd losing 10 percent and Anhui Great Wall Military Industry Co Ltd down by 9.98 percent. 
** So far this year, the Shanghai stock index is down 19.3 percent, the CSI300 has fallen 19.9 percent while China's H-share index listed in Hong Kong is down 11.3 percent. Shanghai stocks have declined 2.05 percent this month. 
** About 10.36 billion shares were traded on the Shanghai exchange, roughly 85.9 percent of the market's 30-day moving average of 12.05 billion shares a day. The volume in the previous trading session was 10.75 billion. 
** As of 07:16 GMT, China's A-shares were trading at a premium of 20.67 percent over the Hong Kong-listed H-shares. 
** The Shanghai stock index is below its 50-day moving average and below its 200-day moving average.