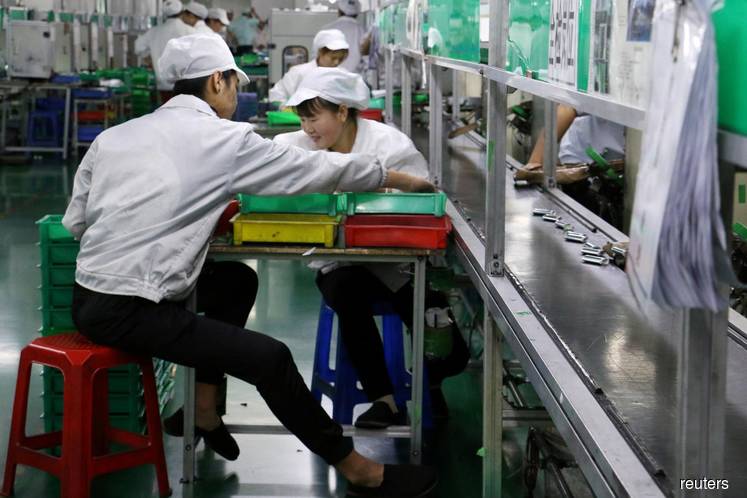 BEIJING (Nov 14): China reported a mixed bag of economic data for October on Wednesday, but industrial output and investment grew faster than expected, suggesting a flurry of support measures may be starting to take hold.
Other indicators pointed to continued pressure on the economy, however.
Retail sales slowed more than expected, while growth in October real estate investment eased to a 10-month low and home sales fell again as developers held back expansion plans in the face of softening demand.
Facing the weakest growth since the global financial crisis, Chinese policymakers are fast-tracking road and rail projects, pushing banks to increase lending and cutting taxes to ease strains on businesses and prevent a sharper slowdown.
Industrial output rose 5.9% in October, the National Bureau of Statistics (NBS) said on Wednesday, surpassing analysts' estimates. Factory output had been expected to grow 5.7%, down from 5.8% in September.
China's economy is facing increasing domestic and external pressures, with a multi-year regulatory crackdown on riskier lending discouraging investment and US tariffs threatening its export machine.
While China's exports to the United States have been surprisingly resilient so far, analysts warn they could fall sharply next year after the US imposes much higher duty levels starting in January. Business surveys show factory export orders — an indicator of future activity — have been shrinking for months.
China's fixed-asset investment growth quickened to 5.7% in the January-October period.
Analysts polled by Reuters had expected it to rise 5.5% in the first 10 months of the year, edging up from 5.4% in January-September.
Investment growth had fallen to a record low earlier in the year as regulators reined in local government spending and debt.
Private sector fixed-asset investment rose 8.8% in January-October, compared with an increase of 8.7% in the first three quarters. Private investment accounts for about 60% of overall investment in China.
Growth in infrastructure spending, a powerful economic driver last year, picked up to 3.7% in the first 10 months of the year, compared with a rise of 3.3% in January-September.
Beijing has been fast-tracking approvals for fixed-asset investments in recent months. The state planner gave the greenlight to 45 projects worth 437.4 billion yuan in the third quarter, accounting for nearly two-thirds of the value of approvals so far this year.
China's State Council, or cabinet, recently said the country would ramp up investment in infrastructure such as railways, highways and airports to spur domestic demand.
Government spending rose 8.2% in October from a year earlier.
But even if the projects get funding swiftly, economists note it will be some time before the new spending works its way through the economy and growth starts to stabilise.
Retail sales rose 8.6% in October from a year earlier, the slowest since May. Analysts had expected retail sales to rise 9.1%, slowing from 9.2% in September.
Loss of economic growth momentum has in recent months fanned concerns that China is seeing a consumption slowdown.
China's automobile sales fell 11.7% in October, bringing the world's biggest car market closer to its first annual contraction since at least 1990.
Beijing released a draft plan for personal income tax deductions in late October as part of efforts to boost domestic consumption, and Reuters was told recently that more tax cuts are being planned.
Chinese e-commerce giant Alibaba Group Holding Ltd reported a record 213.5 billion yuan (US$30.70 billion) in sales on Sunday from China's Singles' Day — an annual 24-hour buying frenzy that exceeds the combined sales for Black Friday and Cyber Monday in the United States.
But the pace of growth dropped to its slowest rate in the event's 10-year history.
(US$1 = 6.9550 Chinese yuan renminbi)