This article first appeared in The Edge Malaysia Weekly, on November 27, 2017 - December 03, 2017.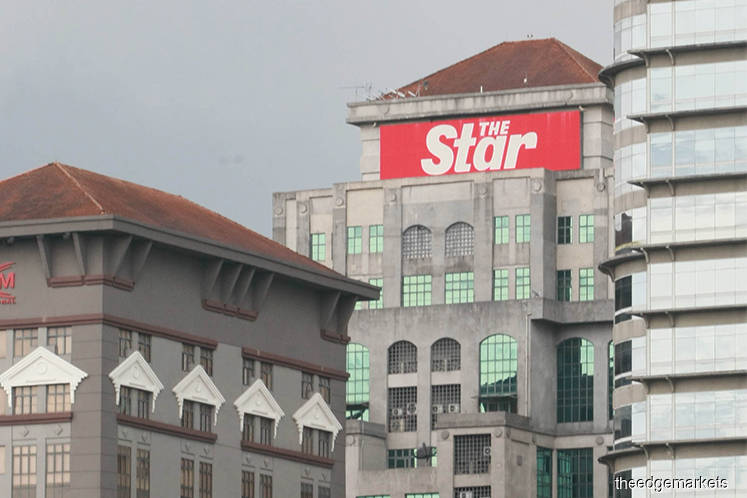 STAR Media Group Bhd, like many traditional media players, is going through some of the most trying times in its history. With advertising revenue from print daily The Star falling and rising costs at dimsum — a video-on-demand service — that is operating in a competitive landscape, many minority shareholders are asking where the media group is headed.
"Many minority shareholders are questioning which way the management will take the group from here. Print advertising revenue is falling and it has lost the much-valued earnings from Cityneon," says a stock broker. The group sold its stake in Singapore-listed Cityneon Holdings Ltd in July.
The concern is reflected in the decline in Star Media's share price over the past year. Star Media closed at RM1.37 last Thursday, valuing the group at slightly over RM1 billion. Year to date, the counter has fallen 25%
It is worth noting that the lower price seen in September was to adjust for the counter going ex on Sept 27 for a special dividend of 30 sen per share.
To recap, on July 12, Star Media completed the disposal of its 52.5% stake in Cityneon for S$115.61 million (RM360.18 million). The disposal almost doubled the group's short-term deposits to RM652.29 million as at Sept 30, 2017, from RM342.73 million as at Dec 31, 2016.
After paying out a total of RM221.6 million for the special dividend, Star Media is still sitting on RM138.6 million of the proceeds from the Cityneon sale. The management has said it is considering acquisitions in the digital sector or outside its core business competencies.
This means Star Media will even look beyond the media industry to diversify its revenue and earnings. However, whether the new business will be as good as Cityneon is another matter.
In financial year 2016 ended Dec 31, the event, exhibition, interior and thematic segment contributed RM24.6 million to the group's profit before tax (PBT), with 94% of it coming from Cityneon.
In the six months ended June 30, the segment contributed RM27.5 million in PBT to Star Media, making it the largest earnings contributor, with the print and digital business' PBT lagged behind at RM11 million.
"Cityneon acted as a stabiliser for the group when print advertising revenue fell. Star Media must look for a replacement that gives it the kind of stable income Cityneon provided previously," says an industry observer.
To be sure, Star Media is a formidable player in the online news space. In June 2017, The Star Online recorded 3.19 million total unique visitors, which makes it the largest English online news portal in Malaysia.
The group took advantage of its leading position online as it sought to monetise some parts of it. It put up a paywall for the online segment of StarBiz, the business and financial section of The Star. StarBiz Premium, as it is called, was launched last Wednesday.
The group also sold two radio stations, Capital FM and Red FM, to Measat Broadcast Network System Sdn Bhd, a wholly-owned subsidiary of Astro Malaysia Holdings Bhd. These disposals have been credited with turning the radio broadcast division around.
Nevertheless, the monetisation of StarBiz and the turnaround of its radio broadcasting business may do little to boost Star Media's future earnings if its core business — print and digital — continues to suffer.
Star Media's print and digital segment has rebounded in terms of profitability from a slump in 2QFY2017. PBT rose to RM20.59 million in 3QFY2017 from RM2.99 million in the preceding quarter. PBT margin rebounded to 18% in 3QFY2017 from 2.7% in the preceding quarter.
However, Lavis Chong Guang Wei, an analyst with AmInvestment Bank who covers Star Media, says there are foreign exchange gains parked under the print and digital business, which may explain the jump in PBT margins despite the continuous drop in advertising revenue.
"It [jump in PBT margin for print and digital] was partially helped by a reduction in operating expenditure, including lower salary expenses and newsprint costs, but note that there was a forex gain which was parked under the print and digital segment," says Chong.
Revenue for the segment increased by only 2.6% to RM114.2 million in the latest quarter, from RM111.3 million in 2QFY2017.
Analysts turning positive on Star Media
The drop in Star Media's share price has created a buying opportunity as the stock is currently trading at about one times book value per share, compared with its three-year average of 1.5 times, says an analyst who covers the counter.
Of 11 analysts covering the stock, three have a "buy" call, six have "hold", and the remaining two, "sell". The average 12-month target price is RM1.54 per share.
AmInvestment has the highest target price of RM1.88 per share. Chong says at the current share price level, the ailing prospects for print have already been priced in.
"The group has embarked on a few rationalisation exercises recently, including a mutual separation scheme. It has also raised the cover price of The Star daily from RM1.20 to RM1.30, and the incremental revenue from that should flow straight to the bottom line.
"In total, we estimate savings of around RM30 million to RM40 million per year from these exercises," says Chong, adding that the stock is currently a good bargain, with price-to-cash of 0.33 times and price-to-book of 0.99 times.
MIDF Research also upgraded the stock to a "buy" on Nov 21, with a target price of RM1.80 per share, citing its attractive dividend yield of 8%, even after imputing "a conservative dividend payment to cater for the group's investment opportunities to grow its earnings base".
For TA Research, which is maintaining its "sell" call and RM1 target price for Star Media, the key concern remains the declining trend in print advertising revenue. As at September 2017, industry newspaper advertising revenue had fallen by 21.7% year on year, the firm says.
"We believe the issue is structural, underpinned by a shift to digital platforms. While economic numbers have been positive, the effects have not filtered through to consumers," TA Research analyst Paul Yap says in a Nov 21 report.