This article first appeared in The Edge Malaysia Weekly, on July 30, 2018 - August 05, 2018.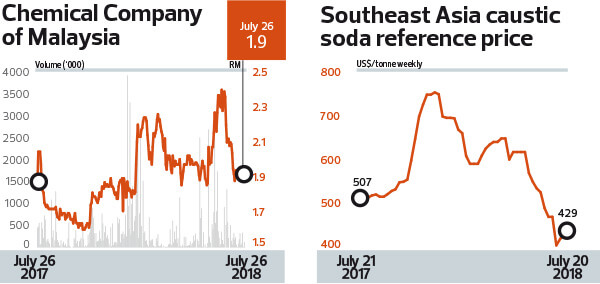 TWO quarters after its demerger, the debt-reduction drive of Chemical Company of Malaysia Bhd (CCM) is nearly done. Now, the major task for the management is expanding its chemicals business to cultivate better earnings growth.
The problem is in the contrasting market conditions for the company's main chemical products, caustic soda and chlorine. They are produced together via the same manufacturing process at a ratio of about 1:1.
Therefore, expanding the production capacity of caustic soda will mean a corresponding increase in chlorine production. Its existing plants are essentially running at full capacity.
"It is a bit tricky. Local demand outstrips supply for caustic soda, but the market for chlorine is already at equilibrium," group managing director Nik Fazila Nik Mohamed Shihabuddin tells The Edge in an interview.
The supply gap for caustic soda is significant. Nik Fazila estimates that from the current local market size of 430,000 metric tonnes (MT) annually, 140,000MT are imports.
The projection does not include future demand. For example, at least another 100,000MT is expected when Petroliam Nasional Bhd's (Petronas) US$16 billion Refinery and Petrochemical Integrated Development (RAPID) project in Pengerang, South Johor, is completed by 2019.
The RAPID project is part of Petronas' US$27 billion, 6,242-acre Pengerang Integrated Complex designed to refine up to 300,000 barrels a day when it is fully up and running.
CCM is one of only two local manufacturers of caustic soda and chlorine with market shares of 26% and 36% respectively.
Nik Fazila says one way to resolve the chlorine issue could be finding a new product niche that is lower down the value chain.
"The key here is the chlorine needs to go into a more productive business, so we need to find a chlorine derivatives business. We are looking at how to work together with partners on chlorine derivatives," she tells The Edge.
She expects CCM to have a clearer picture by year-end, but stresses that things remain too preliminary to provide a clear guidance.
The chemicals division is a key driver of CCM's earnings, making up about 76.5% of its RM370.7 million revenue for the financial year ended Dec 31, 2017 (FY2017).
The rest came from its polymers division, which produces polymer coating solutions for rubber glove manufacturers. CCM's net profit was RM14.7 million for FY2017, a six-fold increase year on year.
In the first quarter ended March 31, 2018 (1QFY2018), CCM recorded a 14% y-o-y increase in revenue to RM101.4 million while pre-tax profit more than tripled to RM14.5 million. Its net profit was lower at RM10.35 million, down nearly 12% against RM11.75 million a year ago. This was due to the absence of contribution from discontinued operations in 1QFY2018 while CCM booked in RM9.57 million in the previous corresponding quarter.
In particular, rising caustic soda prices boosted the chemicals division's turnover by 22.7% as both sales and margins grew.
About half of the chemicals segment's revenue and pre-tax profit come from caustic soda sales, with 25% from chlorine and 25% from a mix of other products.
However, the 1QFY2018 performance should not be taken as a bellwether for the rest of the year as Nik Fazila expects the prices to normalise moving forward.
Weekly reference prices in Southeast Asia, tracked by Bloomberg, briefly broke past US$$750 per tonne in December, but has since dropped to US$$470 per tonne in late June and is trending lower this month.
Last Thursday, CCM's share price closed at RM1.90, down nearly 21% from its last peak of RM2.40 on June 20.
Interim capacity boosts
While it attacks the chlorine problem, CCM is already working on interim plans to boost the production capacity of its chemicals and polymers segments.
On the chemicals front, CCM is currently reactivating its chlor-alkali plant, called Pasir Gudang Works 1 (PGW1), in Pasir Gudang, Johor. The plant was decommissioned in late 2016 as the technology was inefficient and production was consolidated into an adjacent plant, PGW2. The plant's production capacity is 40,000 electro-chloro units (ECUs). Reactivating PGW1 will add another 20,000 ECUs at a cost of RM68.5 million.
"We expect to complete this by July 2019 and the budgeted RM68.5 million will be spent this year and next year," says Nik Fazila.
Last year, CCM also announced plans for a new RM8 million calcium nitrate plant in Shah Alam, Selangor, with commissioning targeted for the third quarter of this year.
However, the commissioning may now be slightly delayed to end-October, says Nik Fazila, due to some approval delays.
That said, the plant is building up a stockpile and the revenue impact should be felt by 4QFY2017.
For its polymers business, CCM acquired an office-cum-factory facility in Bangi for RM20.8 million in December. The facility, on a two-acre plot, is adjacent to its existing plant, also a two-acre parcel. In the near term, the plan is to relocate warehousing and support offices from the existing plant to the newly acquired one.
That, alongside workflow improvements on current manufacturing activities, should boost existing production capacity by 10% to 15%, says Nik Fazila.
"After that, we will look into how much more capacity we can do at the new site, but any new capacity would not be (in place) before 2020," she says.
As the new site already has a two-storey office-cum-factory structure and an annexed single-storey factory complete with fixtures and fittings, planting up will mainly involve investing in machinery. "I think planting up may cost less than RM20 million," Nik Fazila says, adding that the planning will take some time as CCM also wants to factor in an expansion of its research and development capabilities.
Cash influx in 2Q2017
The interim capacity expansion plans will require capital expenditure of about RM90 million over the next couple financial years. That may initially raise concerns given that CCM is in the midst of a debt-reduction plan. However, the company is seeing an influx of cash in 2QFY2017 from its non-core asset disposals.
As at March 31, its gross gearing was 1.49 times — borrowings totalled RM456.57 million against total equity of RM306.97 million. With RM164.21 million in available cash, that puts its net gearing at 0.95 times.
In June, CCM received the remaining RM171 million for the sale of three land parcels in Shah Alam measuring a total of 70.93 acres to Global Vision Logistics Sdn Bhd. The total sale price is RM190 million.
In the same month, it also completed the sale of an 8.39% stake in South Korean pharmaceutical company, Pangen Biotech Inc, to CCM Duopharma Biotech Bhd for RM59.16 million.
A back-of-the-envelope calculation shows that the additional RM230.16 million will drive its net gearing down substantially to 0.2 times.
"All those proceeds will be used to pay our debts. But it will be done progressively, so the full impact of interest savings will not be felt immediately, but rather, in 2019," says Nik Fazila.
One reason is that a big bullet repayment amounting to RM150 million to Sumitomo Mitsui Banking Corp Malaysia Bhd (SMBC) will only come due in December, she adds.
In turn, CCM expects the debt reduction exercise to free up gearing room in support of CCM's interim capacity expansion plans.
Nik Fazila says a comfortable gross gearing level for CCM would be around 0.5 times.
As for the projected RM90 million in capital expenditure, she indicates that about half will be raised via loans but adds that considerations remain fluid.
Another upcoming asset sale is that of an 18-acre parcel in Nilai, Negeri Sembilan, with a current book value of RM19.8 million. "We are currently in final negotiations with a prospective buyer and we also hope to complete the sale by year-end," adds Nik Fazila.
Having put in concerted efforts to pare down its borrowings, it will be interesting to see how management will steer the group on a steady growth path, if not a fast track, after the divestment of its pharmaceutical business.
Save by subscribing to us for your print and/or digital copy.
P/S: The Edge is also available on Apple's AppStore and Androids' Google Play.