This article first appeared in The Edge Financial Daily, on July 23, 2018.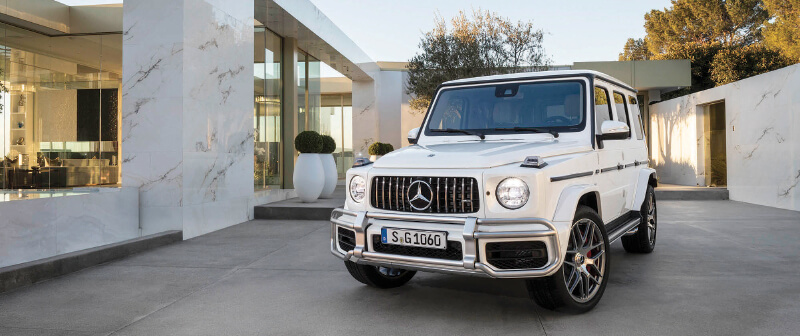 At the time of its market launch, in the spring of 1979, the G-Class was available with a choice of four engine variants covering a performance range from 71hp to 154hp. Customers had the option of a cabriolet with a short wheelbase or station wagon models with short or long wheelbase. This is the most significant redesign in the 40-year history of the G-Class. Photos by Bloomberg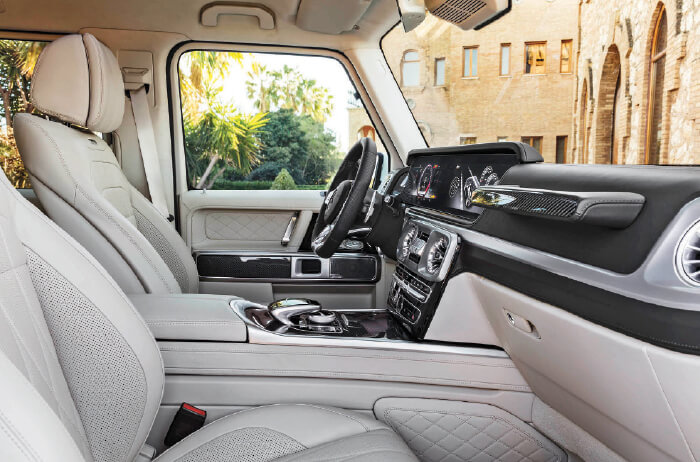 The new G-Wagen comes standard with smartphone integration like Apple CarPlay and Android Auto.
When Mercedes-Benz launched the 2019 G-Class sport utility vehicle (SUV) in Detroit, US, it felt the need to do so with tremendous fanfare: A party for 2,000 people, indoor pyrotechnics, Arnold Schwarzenegger. It was huge.
And it should have been. It was the first time in the 40-year existence of the G-Wagen that the brand has totally revisited its iconic lines and engineering. As Daimler chairman Dieter Zetsche put it, even the biggest diamond in the crown needs a polish now and then.
So of course I have been dying to test it out for myself.
Minor changes make big differences
Inside — both behind the driver's wheel and from the passenger and back seats — is where the more significant changes become apparent. The first thing you will notice is that there are inches more space in both the front and back, thank God (the G is notoriously straitjacket small when it comes to legroom, though its headroom is beaten by none). There are also more slots for storing cords, cups, sunscreen, phones, and all the rest of the paraphernalia one takes on safari or, you know, shopping. Split-folding rear seats come standard, which came in handy for shoving in baggage for our trip — three adults planning to cover five countries in as many days. The overall extra dimensions come in at 2.1 inches (5.33cm) longer and 4.8 inches wider than the predecessor, yet 375 pounds (170.1kg) lighter. That is quite a feat in itself.
I also liked the new interior finishings, which felt modern but will be familiar to anyone attached to what the G has looked like since the 1990s. The dashboard and touchpad and bigger, new 12.3-inch central display screen are all updated to join us in the 21st century — they look smoothly modern but not fussy like some of the other fronts can get in the Mercedes line. Three-zone climate control, 64-colour ambient lighting, Burmester Surround Sound, and a power-sliding sunroof all make the cabin feel thick with the trappings of luxury. What is more, the Nappa leather seats with all-new interior upholstery colours and diamond stitching are incredibly supportive and blessedly high — cruising down the A8 at 120mph (193kph), I felt like the pope.
On-road performance
Most Americans who buy this vehicle will not use it off-road, even though the less expensive 550 is arguably better-suited for that than the AMG. The US$130,000 (RM527,800)-or-so 550 has all the traditional off-road features as the AMG, like a ladder frame; improved ground clearance; low-range gear box; and three 100% differential locks in centre, rear, and front that allow the driver to enhance agility over the most uneven terrain, but for a lower price. It costs at least US$20,000 less than the AMG and is similarly nimble under slower speeds. Overall, that makes it a better value.
But the vast majority of buyers (as many as 90%, according to one employee at Mercedes-Benz AG) will choose the AMG version, which is faster and more powerful on the open road. (Let us remember that these days, even at the top-end price of US$225,000 or so, the AMG version is well within the price spectrum of other luxury SUVs from Bentley, Lamborghini, and Rolls-Royce, to name a few.) The G63 version of the AMG offers a 4.0-litre V8 that gets 577hp and 627 pound-feet of torque, that nine-speed transmission, dynamic ride select, a performance exhaust system with side pipes, a performance steering wheel, and 22-inch rims, not to mention an AMG-specific grille and flared wheel arches. Zero to 60mph is 5.3 seconds. That grille and arch and side pipes mean you will know the AMG G when you see it, or when it passes you, whichever comes first.
But the 550 will get you plenty of attention, too. In today's market full of expensive, interchangeable SUVs, all versions of the G-Wagen stand out like jewels. Look for them in showrooms — and shopping malls — later this year. — Bloomberg