This article first appeared in The Edge Financial Daily, on August 21, 2018.
Test driving near Millerton, NY. The price, as driven, was US$88,770. Photo by Hannah Elliott/Bloomberg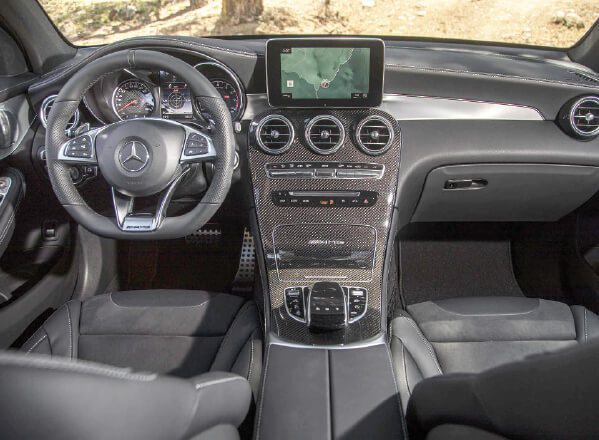 The active LED headlamps, adaptive high beams, ambient lighting, and AMG illuminated door sills are extras that cost US$1,050, but they make the car feel more special behind the wheel. Photo by Mercedes-Benz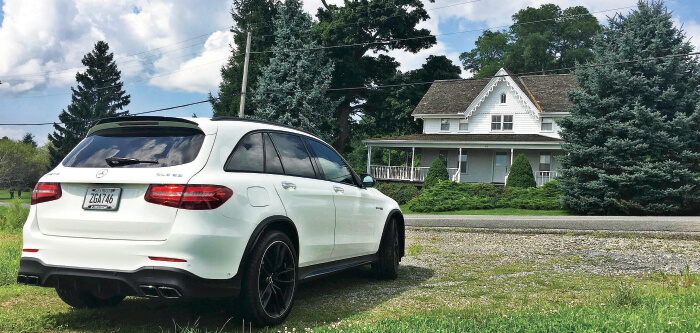 The AMG GLC 63 SUV is the fastest SUV in its segment, a good value for the money. Photo by Hannah Elliott/Bloomberg
Since its pyrotechnic-laced debut earlier this year in Detroit, Michigan, the US, the new G-Wagen has received plenty of adulation.
But the iconic metal box is not for everyone. It is expensive, it is cramped in the back, its in-your-face looks are not respectable in polite circles. The hordes of them I saw on a trip to Sylt, Germany during the weekend before last were enough to fill even me for a good long while.
Consider then, the Mercedes-Benz AMG GLC 63 sport utility vehicle (SUV). It is just as interesting to drive, roomier inside, and at US$69,900 (RM286,590), far less expensive than the big G. It offers all the benefits of superior AMG-engineered performance, practical storage, and Mercedes' many segment-leading safety and crash-avoidance systems.
It is a very humble sibling to the G-Wagen — and that made me approve all the more.
Made from many
But do not mistake humble for weak. When other automakers are choosing smaller engines in order to eke out efficiency numbers, the AMG GLC 63 maintains Mercedes' tradition of big V8 engines and creative manufacturing, pulling the best systems from other cars and putting them into something it knows will sell well — a mid-sized luxury SUV — to amplify the driving experience. This strategy shows why Merc is one of the most successful luxury brands on earth.  
Its twin-turbo 4.0-litre V8 is a direct transplant from the C63 family of sedan, coupe, and convertible lines. This means that the heart of the GLC 63 is tried and tested, with 469-horsepower and a zero-to-60 miles (96.56km)-per-hour sprint time of 3.8 seconds in the "Polar White" AMG version I drove. No surprise, fuel economy is horrible. (Note that there are many versions of the GLC line here, including a base model GLC 300, an AMG GLC 43, and GLC four-door Coupes in both AMG-43 and -63 and non-AMG forms. Yes, it is very confusing.)
Its nine-speed automatic transmission and four-wheel drive come from the Mercedes E63 S sedan, another nameplate for its gripping control in the hairiest conditions.
A high-performance braking system, sport suspension, and air body control — all specific to the highly tuned AMG line — complete the Frankenstein package for a very nondescript but with an edge effect behind the wheel. In a segment of very bland SUVs, perhaps only the Porsche Macan Turbo can beat this one for personality, though that heavier, more-expensive Porsche has less power and is slower off the starting line than the AMG GLC 63.
Safe and secure
The interior of the AMG GLC 63 is like every other AMG SUV Mercedes makes, meaning: It is luxurious. It has a seven-inch (17.78cm) colour display screen, aircraft-style vents, and a flat-bottomed AMG sport steering wheel. I am not telling you anything new.
As for upgrades, my heated front and rear seats (US$580 additional for heat in both rear seats) came in a two-tone "Platinum White Pearl/Black Nappa Leather" combo that reminded me of dolphins. The seating proved comfortable and supportive on a day drive to Millerton, New York, about 100 miles outside New York. The giant US$1,500 panorama roof is now so common in this segment that I predict it will soon be offered as standard across the board, but it was perfectly suited for getting my daily dose of vitamin D as we drove. The US$350 ioniser/air purifier and fragrance infuser are not new here either but have become hallmarks of Mercedes luxury and are much improved over the first versions, with subtler, less-chemical scents that slowly cloak the cabin.
Another hallmark of Mercedes — the shifter being on the steering column, as on a mid-century Buick — remains in the AMG GLC as well. I am not a fan. How many times have I bumped it up thinking it is the windshield wipers rod, only to find I've put the car in neutral mid-drive? Many. It is embarrassing at best, dangerous at worst.
You can almost forgive it (almost), thanks to the intuitive, adequately simplified infotainment system. Burmester Surround Sound, with 13 high-performance speakers and a nine-channel amplifier, carried our poolside mixes well; climate, navigation, and parking cameras are crisply executed and easy to use. The dozen or so safety systems (including blindspot assist, adaptive braking, active lane keeping, and so forth) do not intrude on the act of driving, as they tend to do in some vehicles. And thankfully, the Bluetooth connects when the car is driving; a handful of brands prevent this as some sort of weird safety measure, and that is just silly.
There are a lot of extras you can buy with this SUV, and since it looks a little bland from the outside — minus that distinctive Mercedes-Benz grill — I recommend you do. The AMG Night Package for US$750 is great, offering high-gloss black front splitter, side sill inserts, exterior mirror housings, matte-black roof rails, and black, chrome-plated exhaust tailpipes. So is the AMG Performance Exhaust System, for US$1,250, which gives the car a lovely throaty roar.
You'll need a way to let people know you're coming, anyway. It's not as if this is a G-Wagen. — Bloomberg