SINGAPOREAN businessman and property investor Alvin Ong relocated with his family to Ho Chi Minh City in Vietnam in 2012. Ong, who is married to a Viet­namese ­citizen and a father of four, says, "It's a slower pace of life."
The same cannot be said of Vietnam's property market, though. It has been sizzling since the government relaxed its foreign ownership rules in July 2015. "There has been a lot of ­interest from overseas investors, especially those from Singapore," notes Ong.
The appetite for Vietnamese projects was evident at CapitaLand's and Keppel Land's weekend launches of their Ho Chi Minh City (HCMC) projects in Singapore in late-2015. Keppel Land sold more than 50 units in the second phase of the 719-unit The Estella over one weekend in late October. The following weekend, Capita­Land sold over 100 units in Singapore when it showcased two projects, the 1,152-unit Vista Verde and the 750-unit The Vista.
Meanwhile, Singaporean serial ­entrepreneur and property investor Adam Khoo of the epony­mous Adam Khoo Learning Centre reportedly scooped up 100 apartments at ­Diamond ­Lotus Lake View project in Tan Phu District, HCMC in December 2015. The 100 apartments Khoo purchased are equivalent to 10 floors in the project of more than 700 units, developed by Vietnamese developer Phuc Khang Corp.
Prices at Diamond Lotus Lake View are said to start from VND678 million (S$41,656 or RM128,551) a unit. For that price, one cannot buy even an HDB flat in Singapore, nor the Certificate of Entitlement on a new car — only a four-year-old Ducati or a used Honda Civic.
'Very attractive yields'
And it is such price comparisons that are ­luring Singaporeans to invest in Vietnam. "For S$1 million, you can buy five to six high-end condos in Ho Chi Minh City, or up to 10 units in a mid-tier condo," says Ong.
He and his wife have amassed a portfolio of more than five properties in Vietnam, primarily in Hanoi and HCMC. "We buy condos in the city centre, or within 2km to 3km of the CBD," he adds.
Prices have also escalated over the past three years. Ong bought a high-end condo for US$1,600 (RM6,937) psm in HCMC in 2013. A month ago, a new high-end condo development located across the road was launched at US$2,500 psm. "If I were to sell my unit today, I think I can easily fetch US$2,000 psm," says Ong.
Currently, gross yields are at about 6% to 7%, which is considered "very attractive" for investors from Singapore and Taiwan, as yield is low in their home markets, observes Neil MacGregor, managing director of Savills Vietnam. Hence, these investors tend to focus on smaller units priced between US$150,000 and US$250,000, which can be easily leased out, and achieve higher yields, he says.
Investments by Singaporean investors may not be as much as that by the mainland ­Chinese, but they are the ­leading investors in real ­estate in Vietnam to date," notes Marc Townsend of CBRE.
Set to reap 'demographic dividend'
One of Vietnam's biggest assets is its population of 95.2 million, of which more than half are aged between 15 and 39. They form the majority of the workforce. "With a young and entrepreneurial population driving consumer spending and GDP growth, Vietnam has one of the most vibrant economies in the region," says Savills' MacGregor, who has lived there since 2000.
Vietnam is set to reap the benefits of this "demographic dividend" for the next 10 to 15 years, MacGregor notes. The rapidly growing middle class and the young population have also fuelled strong demand for affordable ­housing, with the "sweet spot" in the price range of US$40,000 to US$120,000, he adds.
Recognising the demand, major real estate companies, especially local firms, have shifted their focus to low- to mid-tier residential developments.
With a booming economy, Vietnam is attracting foreign investors who see untapped opportunities in a range of different sectors, says MacGregor.
Boom in hospitality
The hospitality sector is also entering a boom period, with strong demand for both city-­centre hotels as well as resorts, says MacGregor. According to the General Statistics Office, ­Vietnam recorded 10.1 million international visitor arrivals in 2016, up 26% from a year ago.
In 1Q2017, international visitors reached 3.2 million, a 29% increase over the same ­period last year, according to financial and investment advisory services firm AsiaInvest Group. The increase was said to be driven by visitors from other Asian countries, notably mainland Chinese, who accounted for almost 30% of the total number of arrivals. This was followed by visitors from South Korea, Japan, the US and Russia.
Danang has seen particularly strong growth in recent years as tourism has boomed, supported by rapid growth in the number of ­direct flights from other cities across Asia, says MacGregor. With Danang hosting the Asia-Pacific Economic Cooperation (Apec) Summit this year, the profile of the city is likely to be raised.
"Nha Trang/Cam Ranh and Phu Quoc are the next destinations that will benefit from tourism growth, with the number of direct flights set to increase rapidly over the next three to five years," says MacGregor. "In Haiphong, northern Vietnam's busiest port, the economy is being driven by growth in manufacturing and logistics."
Manufacturing-led economy
The manufacturing sector is fuelling household income and promises a sustained trade surplus in Vietnam, according to AsiaInvest. While GDP growth in 1Q2017 was estimated at 5.1%, according to the General Statistics Office, FocusEconomics panellists have forecast economic growth of 6.4% for ­Vietnam for the whole of 2017, and the same level of growth in 2018.
The Nikkei manufacturing Purchasing ­Managers' Index hit a 22-month high of 54.6 points in March. This resulted in 1Q2017 PMI data being "the strongest quarter that we have seen since the survey began in early 2011", says IHS Markit economist Andrew Harker. This was coupled with a "near-record increase in employment" stemming from companies' optimism that workload will continue to expand in the near term, he adds.
It is even more remarkable considering that the Trans-Pacific Partnership, of which Vietnam was supposed to be a major benefi­ciary, has since been put on ice after the US pulled out. Instead, ­Vietnam's economy has been bolstered by its other regional alliances, including the Asean ­Economic Community; Free Trade Agreements with the EU, Russia, ­South ­Korea, Chile; and the upcoming Region­al Comprehensive Economic Partnership.
In 1Q2017, Vietnam registered foreign direct investment of US$7.7 billion, up 77.6% y-o-y. About 85% of the FDI went to the manufacturing sector, and 4.4%, to real estate. The 4.4% FDI in real estate totalled US$343.7 million, representing a 34.4% increase from a year ago, according to the Ministry of Planning and Investment. The property sector, therefore, ranked second in terms of FDI inflows ­between January and March this year.
The biggest FDI contributor to Vietnam in 1Q2017 was South Korea (US$3.75 billion), with Singapore in second place (US$911 million), followed by China (US$824 million), Taiwan (US$644 million) and Japan (US$452 million).
Growth in retail
Another sector that is booming is retail. During the first two months of 2017, Vietnam's retail sales and service turnover grew 8.7% compared with the same period last year, says JLL in its Vietnam property market report on March 28.
While supply of prime shopping centres in HCMC remained flat in 1Q2017, convenience stores — operated by domestic and foreign ­retailers — continued to expand citywide, JLL adds. Supply reached 199,350 sq m in total, and the overall occupancy rate rose to 92.2%.
Likewise, in the capital city of Hanoi, total supply of prime shopping centres and retail space remained unchanged as no new projects were completed in 1Q2017. However, convenience stores saw rapid growth in the city, with ­supply reaching 47,500 sq m in total.
"A large volume of quality supply in retail space is projected to be completed over the next two years," says JLL.
The retail market in Hanoi and HCMC is likely to see more local and foreign retailers expanding their footprint in good locations, according to the property consultancy.
Record office occupancy
There is also strong demand for quality office buildings in HCMC. The occupancy rate of Grade-A office space hit a record 95.6% in 1Q2017, while that for Grade-B office space stood at 91.8%, according to JLL. Total stock of Grade-A office space in HCMC was 192,179 sq m — just 23% of Grade-B stock (831,948 sq m) and 24.5% of Grade-C stock (785,037 sq m).
In 1Q2017, average net rents in the Grade-A and Grade-B space in HCMC rose 0.4% q-o-q to US$38.7 and US$22 psm per month respectively, says JLL. Net absorption in Grade-A and Grade-B projects totalled 490 sq m and 41,087 sq m, respectively, with demand ­driven primarily by the financial services and IT sectors. ­Average rents of office space in non-CBD ­office projects rose at a faster clip — up 0.9% q-o-q in 1Q2017 — with demand driven by newcomers in District 7, District 10 and Tan Binh District, says JLL.
Office rents in HCMC are expected to continue their upward trend as supply will remain unchanged until 2H2017, notes JLL. The new office developments — Deutsches Haus and Saigon Centre Phase II — are scheduled to be completed in 3Q2017. Office supply is expected to soar only in 2019, as high-quality projects are expected to come on stream then, and mostly in the suburban areas, JLL says.
In Hanoi, more than 130,000 sq m of Grade-B office space from five projects is expected to come on stream this year. However, there is no new supply of Grade-A office space this year. Two huge Grade-A office projects scheduled for completion in 2018/19 will add a ­total of 240,000 sq m of space to the market, says JLL. "Demand for new and modern office space with a reasonable rent is expected to increase over the next quarters."
Infrastructure boom
Both Hanoi and HCMC have ambitious transport infrastructure programmes, according to Savills Vietnam Research. HCMC is expected to invest more than US$20 billion in infrastructure, including five planned elevated roads stretching 71km and five new metro lines of 106km.
Similarly, Hanoi has eight metro lines of 260km and six elevated roads in the pipeline. The first metro line, scheduled to be ­fully ­operational by 2020, is expected to shift ­development focus.
"Living further from the city will become more appealing and cost-effective and shift the focus of investors away from the centre," says Savills in its report on urban transport. "Properties near transit hubs can have significant capital appreciation: 10% in ­China and Thailand, and 32% in Hong Kong. The same pattern will arise in Vietnam."
Building infrastructure has become critical as more people are buying cars in Vietnam, owing to decreased import duties within Asean and increased incomes. In the past five years, car sales grew 35% per annum and are expected to triple by 2025, according to Savills.
Massive urbanisation is also taking place. Construction is happening everywhere — not just in HCMC, but Hanoi, Danang and across many other cities in Vietnam, according to CBRE.
Acquiring land is a challenge
As there is a limited amount of government land for public auction, the big local Vietnamese developers are turning to farmers to purchase big land parcels, notes CBRE's Townsend. They are developing large townships that are likely to benefit from ­future infrastructure ­development, he adds.
As the rules concerning buying ­government land are opaque, the biggest challenge for foreign developers is finding a greenfield site that is free and has a clean ownership title, says Savills' MacGregor. Some developers may face issues, such as having to buy a site from multiple shareholders. Others may have to deal with clearance and compensation of existing households on the site, which can be time-­consuming, he notes.
The Vietnam Association of Realtors recorded 18,340 transactions of land plots, residential and resort properties in 1Q2017, according to the breaking news on Vietnam on April 21. The figure is said to reflect both a q-o-q and y-o-y decline.
The difficulty in securing land sites could have also led to a fall in the number of new apartments launched. In 1Q2017, 5,200 new apartments were available for sale in HCMC, a 47% contraction q-o-q. At the same time, total volume of transactions in 1Q2017 was 8,800 units, down 13% q-o-q. Savills forecasts that supply from 2Q2017 to 2019 will reach 62,200 in HCMC, with Districts 2 and 7 contributing the most — 21% each.
Foreign ownership concerns
The biggest concern among individual foreign buyers of apartments is the withdrawal of their funds when they sell their property in the future, and also whether the 50-year lease is renewable, says MacGregor (see tables).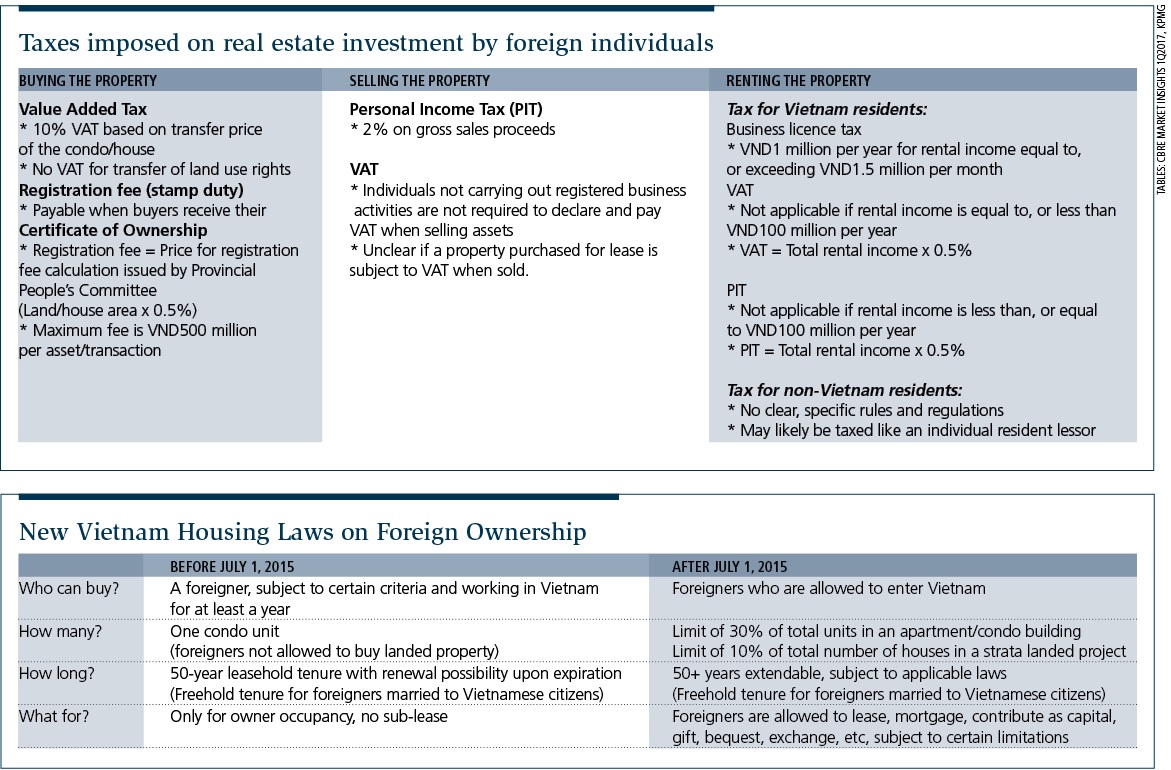 Another major concern that surfaced recently is the issue of ownership certificates (or pink book) to foreigners. Tuoi Tre News and The Straits Times reported last month that the municipal land registration office in HCMC has stopped issuing ownership certificates to foreigners.
Currently, foreign purchasers of CapitaLand's projects, including Mulberry Lane in Hanoi, have received ownership certificates, says the developer. Thus, it is a matter of waiting "for clear procedural guidelines from the upper level authorities", says CapitaLand in an email response to queries.
The issue has not dented demand in ­Vietnam's housing market, though. Nguyen Tran Nam, chairman of the Vietnam National Real Estate Association (VNREA) and former ­deputy minister of construction, expects more new launches in 2Q2017 and foresees higher sales volume than in the first quarter.
VNREA is a non-profit organisation with 4,500 members across the country, many of whom are involved in the real estate sector — from developers and property consultants to investors and analysts. "As an official representative of the real estate community, ­VNREA is also the bridge between enterprises and govern­ment authorities, and between Vietnam enterprises and the international business community," says Nguyen. VNREA members have played an important role in Vietnam's booming property market, he adds.
Meanwhile, Vietnam is seeing more millionaires who have made their money from trading property, says Savills' ­MacGregor. "It has happened all over the world. But the fact that Vietnam is still at a very early stage of development, it is possible to make a lot of money in a short space of time during the boom times."
This article first appeared in The Edge Property Singapore, a pullout of The Edge Singapore, on May 8, 2017.
For more stories, download TheEdgeProperty.com pullout here for free.