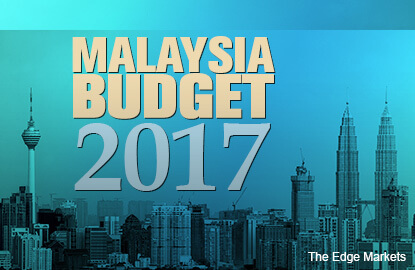 KUALA LUMPUR (Oct 21): An economist said the emphasis on expenditure allocations in Budget 2017 belied Prime Minister Datuk Seri Najib Razak's dismissal of talks earlier that it would be an election budget.
"Although Najib dismissed talks of this being an election budget, the emphasis of the expenditure allocations, together with how he ended his speech drumming up the idea of how there will be an "ultimate victory in the 14th general election to the Barisan Nasional" should not be missed by investors," said OCBC Bank Ltd economist Welian Wiranto.
Welian said Budget 2017 was a continuation of previous years' moves in fiscal consolidation, given oil price constraints, even as key segments of the population received more attention.
Overall, the budget is not likely to be seen as one that broke through new grounds, with major reforms such as goods and services tax (GST) and subsidy rationalisation continuing to be pursued, he said.
"Najib's expenditure plans looks like it is maximising whatever space made available by helpfully steadier oil price, and fruits from his previous moves to rationalise subsidies and implement GST.
"All these, while also paying attention to at least the motion of fiscal consolidation, with a slight shrinkage of fiscal deficit to 3% of gross domestic product (GDP) being achievable, if 2017 growth does prove to be as smooth sailing as projected," he added in a statement.
Welian said the 3% gross domestic product (GDP) projections for budget deficit in 2017 is technically still counted as another year of fiscal consolidation, as this year's fiscal deficit is projected to be 3.1%.
"In and of itself, that should be enough to pre-empt the rating agencies from having to go through the motion of looking closely at any potential changes to their sovereign ratings for Malaysia," he said.
On revenue, where total income is expected to rise by 3% to RM219.7 billion in 2017, Welian said it was a trend which continued to be established from previous years.
"The contribution coming from oil and gas sector is expected to decline further to just 13.8% of total revenue in 2017, from 14.6% anticipated in 2016. This marks a significant downtrend from as much as 41.3% in 2009.
"That is definitely a good thing, given that there has been a rather uncanny tendency for oil price to decline in the months after budget announcements in the previous years," he said.
Welian added it was good that the government was depending less on oil and gas contributions, although oil price should 'at least be stable', if not rising due to the Organization of the Petroleum Producing Countries (OPEC).
On GST — which Najib said contributed RM30 billion to the national revenue, with RM40 billion (18% of total revenue) expected next year — he said it played a crucial role in the country's income, particularly where Malaysia's income tax base remained relatively narrow.
He opined the budget speech was skewed towards allocation of government money, with focus on caring for the poor, ensuring civil servants' welfare and development of rural areas, including East Malaysia.