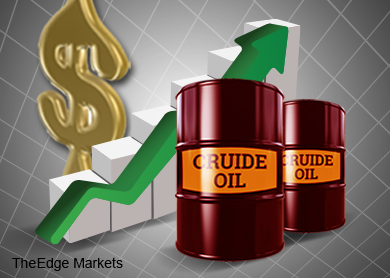 SINGAPORE (May 4): Brent crude dipped towards $66 a barrel on Monday as weak Chinese data added to demand fears, while near-record supplies from OPEC producers maintained worries about oversupply.
China, the world's second-largest oil consumer, posted its biggest drop in factory activity in a year to 48.9 in April, a private business survey showed on Monday. The sub-50 point level indicates a contraction compared with the previous month.
The data came on the heels of a top government think tank's forecast that China's economic growth could slow further to 6.8 percent in the second quarter.
"The Chinese data is weaker but it seems the oil market has had a limited reaction. What the market really wants to see is supply being cut to match the demand level," said Ric Spooner, chief market analyst at Sydney's CMC Markets.
Oil supplies from the Organization of the Petroleum Exporting Countries, which produces about 40 percent of oil supplies, climbed 0.2 percent to a more than two-year high in April, a Reuters survey showed.
Brent June crude futures dropped 11 cents to $66.35 a barrel by 0412 GMT, after hitting a 2015 peak of $66.93 on April 30.
U.S. June crude declined 7 cents to $59.08 a barrel. WTI hit its highest this year at $59.90 on May 1.
Brent crude has recovered by more than 40 percent since its near six-year low of $45.19 a barrel in January, as geopolitical tension in the Middle East and declining U.S. rig counts provided support.
Both Brent and U.S. crudes posted their biggest monthly price rise in nearly six years in April.
But the U.S. oil rig count is beginning to decline more slowly, after falling for a record 21 straight weeks to its lowest level since September 2010, in a possible sign that the collapse in drilling could be coming to an end.
Speculators cut their net long U.S. crude futures and options in the week to April 28, the Commodity Futures Trading Commission said on Friday.
Investors could look towards the U.S. nonfarm payrolls data later this week for oil price direction based on the greenback's strength, analysts said.
A stronger dollar makes dollar denominated commodities, including oil, more expensive.
"We would expect prices to move upwards after U.S. crude inventories (data) but this upside could be dampened by a stable USD strength," Phillip Futures said in a note on Monday.