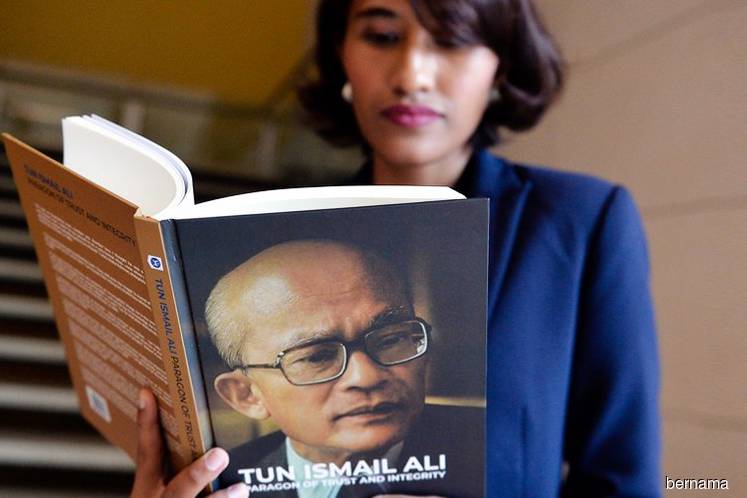 KUALA LUMPUR (Oct 10): The book, "Paragon of Trust and Integrity" on the first Bank Negara Malaysia (BNM) governor, Tun Ismail Ali, is a much-needed lift in a world where trust, integrity and dedication has become a scarce commodity.
The 211-page book, authored by P.Gunasegaram and published by BNM will leave readers in awe on how someone from an ordinary and humble background can immensely contribute to nation building without much brouhaha.
Born in 1918 in a large family of 10 siblings, he began his early education at Victoria Institution in Kuala Lumpur – the first Malay from the prestigious institution, and later pursued his tertiary education at Cambridge University under the Queen's Scholarship.
Ismail was somewhat aloof, studious and encouraged his siblings to study and work hard as well. As it turned out, that made the family become high achievers, which included, his younger sister, non other than Tun Dr Siti Hasmah Ali, the first Malay woman from Selangor to become a doctor.
According to the book, Ismail started as the deputy governor of the central bank on November 22, 1960 and became its first governor on July 26, 1962. He laid the foundation for BNM to become a well-respected and premier financial institution, and above all, one that served the national interest.
At that time, the nation was at a nascent stage of economic development and was heavily dependent on commodities, which was largely controlled by British corporations.
He developed a full range of monetary policy mechanism and orchestrated a comprehensive financial sector architecture that was critical to support the growing needs of the nation.
While his commitment towards nation building was unwavering, he was also an internationalist who equally believed in the regional spirit. Much had been achieved through his economic diplomacy and building of a network of trust and cooperation.
He was also instrumental in introducing the New Economic Policy (NEP) with the twin aim of eradicating poverty, irrespective of race, and the elimination of the identification of race with economic function.
Later, Ismail assumed a role in the formation of Permodalan Nasional Bhd, which was located at BNM and eventually became its first chairman.
He was driven by his vision and mission to preserve the rights of the Bumiputera. He also masterminded the grand design of market-based principles of the NEP that enabled the accumulation of national assets, such as through the Dawn Raid.
Until today, the unit trust has been the core thrust that mobilised and accumulated the nation's prosperity.
During the launch of the book, BNM Governor Datuk Nor Shamsiah Mohd Yunus said: "As we sifted through the mementoes of Governor Ismail Ali for the book, we noticed that rarely were there pictures of him at the centre of attention in most, he was at the side of a dignitary dispensing advice.
"I believe this aptly encapsulates his deep understanding of the role of a central bank," she said.
Ismail's distinguished career as BNM governor, spanned over the time four prime ministers were in office (18 years) and as chairman of Permodalan Nasional Bhd for another 18 years. Overall, he was the longest serving governor and served the central bank for 36 years, with an overlap of two years when he was both governor and chairman.
The book, which has six chapters and chronicles Ismail's life, his early years during the Second World War, his years as the first Malaysian governor till his death in 1998 at a ripe old age of 79, was launched to commemorate Ismail who would have turned 100 years of age this year.
It includes interviews with key personalities that knew Ismail including his sister Tun Dr Siti Hasmah Mohd Ali, Tan Sri Abdul Aziz Taha, Datuk Taib Hamid, Raja Lope Raja Shahrome, Tan Sri C. Rajandram, Tan Sri Lin See Yan, Tan Sri Dr Zeti Akhtar Aziz and many more.
Without a doubt, Ismail was one of Malaysia's great leaders but largely unsung. - Bernama