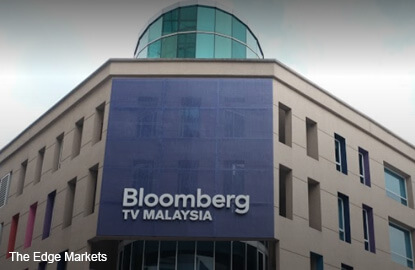 This article first appeared in The Edge Financial Daily, on September 15, 2016.
KUALA LUMPUR: Bloomberg TV Malaysia (BTVM), the first international business news channel localised for Malaysian audience is going off the air about a year after it made its debut. The business news channel company has seen an investment of over RM40 million since 2014, according to an interview with Michael Chan, chief executive officer of BTVM.
"We took quite a while to get going with BTVM. We only got on-air in June 2015 but the investment has been ongoing since 2014, as it took time to meet the standard for broadcasting with Bloomberg as well as some delay in getting local carriage.
"In 2015, the US dollar went up quite drastically, essentially increasing the licensing cost with Bloomberg. This, with the uncertainties surrounding the media industry, has led to the decision to go off-air," Chan said.
BTVM's programme Moving Malaysia was aired on Astro Channel 519, on weekdays at 6pm. The new channel has yet to break even although it managed to raise advertising revenue of close to RM5 million.
"From a cash [flow] perspective, it's just not enough to cover," Chan added.
According to industry sources, the licensing fee is between US$2 million and US$3 million a year.
BTVM is owned by Enmedia Ventures Sdn Bhd, which is owned by former Malaysian minister and ntv7 founder, Tan Sri Mohd Effendi Norwawi. The localised Bloomberg TV in Malaysia is not the first to go off-air. Last year, Bloomberg TV Indonesia, a joint venture set up in 2012 between Bloomberg and Idea Group, ceased operations after running into financial difficulty.
BTVM has reached a settlement with Astro Malaysia Holdings Bhd over any outstanding debt, said Chan.
BTVM had seen a rift with Astro this year which led to the pay-TV operator to stop the broadcast of BTVM programmes on Channel 519 in July.
"The positive spin to this situation is that there are two groups who are looking at BTVM seriously," Chan shared with The Edge Financial Daily.
According to the media industry veteran, one of the groups is an existing media player while the other one is an influential businessman who is interested in venturing into the media business.
The deal is likely to be done either through asset sales or leasing of the broadcast centre with new investors taking over from Mohd Effendi. The new investors will, however, need to secure a licence with Bloomberg that Chan will help facilitate.