This article first appeared in The Edge Malaysia Weekly, on April 23, 2018 - April 29, 2018.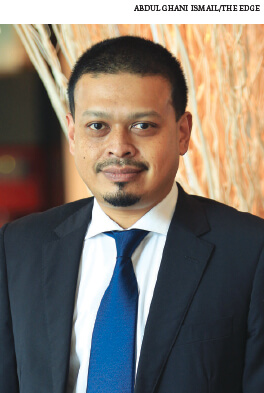 Azrin says Impiana Group is keen on having hotels in Bangkok, Jakarta, Singapore and London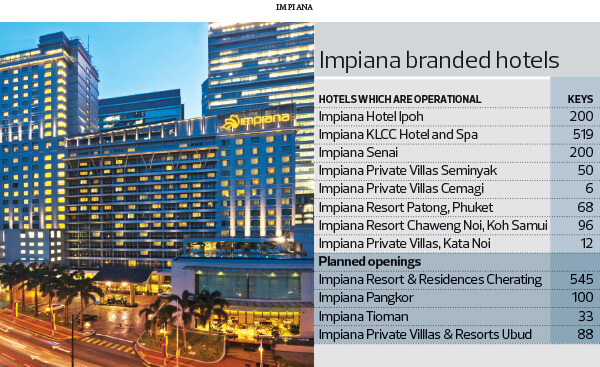 Datuk Seri Ismail Farouk Abdullah plans to inject his stake in Impiana KLCC Hotel and Spa into Bio Osmo
BIO Osmo Bhd, which is in the process of transforming itself into a full-fledged hospitality entity, plans to dispose of its loss-making osmosis drinking water business as soon as possible as it is weighing on its profitability. Once the sale is completed, Bio Osmo expects to immediately reverse its loss-making streak and be profitable at a net level.
"We have not much interest in the water business. (There is) no point in making money in the hospitality business and losing money in the water segment," executive director Azrin Mirzhan Kamaluddin says. He was speaking to The Edge following Bio Osmo's announcement that it had signed six share sale agreements to acquire hotels, land and the hospitality management company held by the Impiana Group for RM425.9 million.
"The water business is a volume business. It is cut-throat competition and very price sensitive. We would like to end the business sooner rather than later as it is dragging us down. We are actively looking for possible acquirers," he says, adding that he expects the business to fetch a price in the "single-digit millions".
Two weeks ago, Bio Osmo had said that its largest shareholder, Datuk Seri Ismail Farouk Abdullah, plans to inject businesses held by his private companies. This would effectively increase his stake to over 33% and thereby trigger a mandatory general offer (MGO). But, he plans to maintain the listing of Bio Osmo and rename it Impiana Hotels (Malaysia) Bhd.
Ismail Farouk is the founder of the Impiana Group, which owns and operates hotels and resorts in Malaysia and abroad under the Impiana brand. None of the foreign assets will be injected into Bio Osmo. However, the company managing the foreign hotel assets — Impiana Hotels & Resorts Management Sdn Bhd (IHRM) — as well as the local hotels form part of the deal. IHRM will be sold to Bio Osmo for RM70.84 million.
The local assets that will be injected are Impiana Hotel Ipoh, its 20% stake in Impiana KLCC Hotel and Spa, the Impiana Cherating land and Impiana Pangkor land.
Going forward, Azrin expects the top three contributors to profit among the injection assets to be Impiana Cherating, IHRM and Impiana Ipoh.
In Pahang, the proposed development of Impiana Resort & Residences Cherating will comprise 486 serviced suites, 18 semi-detached villas and 42 private villas. The gross development cost for the project is RM297.12 million. Azrin expects that Bio Osmo will be able to sign sales and purchase agreements, which will be on a sale and leaseback basis, beginning next month.
"We are now collecting registration of interest. We are negotiating a few en-bloc sales and we also have some retail interest for about 50 units," says Azrin, who is also the chief operating officer of Impiana Sdn Bhd. "This is just the first phase of 257 units.
"Impiana Cherating's contribution will be chunky until 2021 due to sales of the units. From 2020, hotel operation income will kick in and Cherating will continue to be the No 1 contributor."
Asked why the group has decided to place its assets under a listed company, Azrin explains that it is to allow quicker access to capital. According to him, regional hospitality assets are attracting investment funds that have ready cash, causing players like Impiana Group to lose out. By being listed and having access to the capital market, Azrin says it will be able to compete with the funds.
"We don't have problems securing loans," says Azrin. However, he says that being a public-listed company helps to get faster access to fresh capital. Furthermore, he points out that it provides easy access to the debt and equity markets instead of plain vanilla commercial banking loans. In the past two years, Impiana group has lost out on good deals in Thailand, the Maldives and Singapore because it did not have enough capital in hand on time to seize the opportunities.
Meanwhile, Azrin says Impiana group is in talks with several parties to acquire and manage hotels. The discussions, which are at the preliminary to advanced stages, include two hotels in prime locations in Kuala Lumpur, one in Cambodia and one in the Maldives.
In Malaysia, Impiana Group is looking at a joint venture for a 450-room hotel and management of a 380-room hotel. If talks are successful, Azrin hopes it will materialise within three years.
In Siem Reap, Cambodia Impiana Group is looking at the outright purchase of an existing operational asset while in the Madives, the asset is currently under construction and the owner wants to sell it once it is completed.
As for its existing hotel assets in Thailand and Indonesia, the group holds the properties jointly with local partners. The hotels in Thailand include Impiana Private Villas Kata Noi and Impiana Resort Patong in Phuket and Impiana REsort Chaweng Noi, Koh Samui while the two assets in Bali, Indonesia, are Impiana Private Villas Seminyak and Impiana Private Villas Cemagi.
Asked whether these assets could be sold to the listed entity at a later date, citing local land laws, Azrin says, "We will put this on hold until we find a structure that will allow us to do so."
Meanwhile, renovation and refurbishment of its existing properties are expected to help lift IHRM's revenue.
Impiana Ipoh is undergoing a RM10 million refurbishment that is expected to see average daily rates and average occupancy increase by 20%. Plans are being finalised for Impiana Cemagi to acquire the neighbouring land and to expand its inventory to 30 villas from 6.
Similarly, the group has acquired the land next to Impiana Patong and plans to increase the number of keys to 150 from 68 in the next four to five years.
Impiana Koh Samui and Impiana Seminyak have been allocated US$700,000 and US$1.2 million respectively to refresh the rooms.
Where next? Azrin says Impiana Group is keen on having hotels in Bangkok, Jakarta, Singapore and London.
Save by subscribing to us for your print and/or digital copy.
P/S: The Edge is also available on Apple's AppStore and Androids' Google Play.