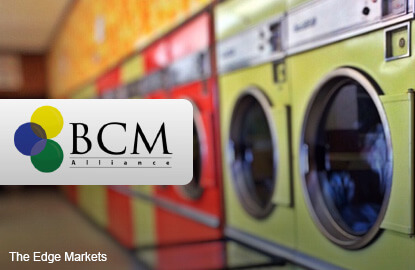 KUALA LUMPUR (Sept 28): Laundry equipment cum medical device distributor BCM Alliance Bhd, which will be floating its shares on the ACE Market on Bursa Malaysia, expects to raise RM16.01 million from its initial public offering (IPO).
According to its prospectus which was revealed today, the IPO will entail the issuance of 84.25 million shares at an issue price of 19 sen each.
Out of the shares, 22 million will be available for public subscription, 9 million for directors and employees and 53.25 million for private placement.
According to the company, RM7.7 million or 48.1% of the total proceeds will be set aside for working capital, primarily for the purchase of brand new commercial laundry equipment and medical devices.
"RM3.21 million or 20.1% will be used for day-to-day working capital expenses," said the company.
Apart from that, BCM Alliance plans to use RM2.6 million or 16.2% of the total proceeds to set up a chain of 11 new Speed Queen self-service launderette outlets in Klang Valley, Johor, Melaka, Negeri Sembilan, Terengganu and Kelantan.
The remaining RM2.5 million or 15.6% is to defray the listing expenses.
Financially, the company's profit after tax grew 9% to RM6.13 million in the financial year 2015 (FY15) from RM5.62 million a year ago, while revenue rose 26.1% to RM64.34 million from RM51.03 million in FY14.
Based on the enlarged issued and paid-up share capital of 421.25 million shares, the company is expected to have a market capitalisation of RM80.04 million.