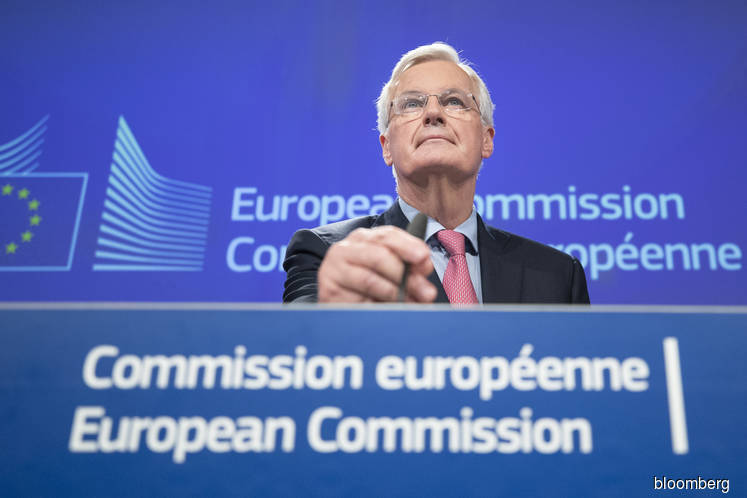 LONDON (Aug 30): European Union chief negotiator Michel Barnier warned that a no-deal Brexit was still a possibility, after comments he made Wednesday were interpreted by investors as implying a successful outcome to talks with the UK was more likely.
"Our responsibility is to be prepared for any and all the options," Barnier told Germany's Germany's Deutschlandfunk radio Thursday. "That includes a no-deal scenario."
German Economy Minister Peter Altmaier also warned that time was running out in the negotiations, after UK ministers said Britain had made all the compromises it could, and that it was time for the EU to move.
The pound's surge on Wednesday, apparently based on comments from Barnier that Brussels-watchers thought had been over-interpreted, illustrated how critical Brexit developments are to shaping market moves. Brexit Secretary Dominic Raab meets Barnier in Brussels Friday, though it's unlikely to deliver much progress — at least in public. A summit of EU leaders in Salzburg on Sept 20 is likely to be much more important.
The pound slipped as much as 0.3% against the dollar Thursday after Barnier's latest remarks.
Deadline Slipping
Raab confirmed Wednesday that the timetable for getting a deal was slipping beyond the target date of the EU leaders' summit starting Oct 18. Speaking to a Parliament committee, he insisted that an agreement is within sight, but acknowledged some "leeway" may be needed in the October deadline.
Meanwhile, the Times reported that French President Emmanuel Macron was concerned a disorderly Brexit would damage Europe. The UK views France as key to getting a deal.
The biggest problem in the talks continues to be avoiding a hard border between the UK and Ireland after the divorce. Politicians fear that a return to customs checks and police on the land frontier between Northern Ireland and the Irish Republic would revive memories of violence in the past, potentially endangering the peace.
UK Prime Minister Theresa May has proposed a long-term solution that would see Britain keep all the EU's rules for trade in goods and agri-food — in theory removing the need for customs and standards checks at the border.
But under her blueprint, the UK would be able to adopt different rules from the EU on services trade, which makes up 80% of the British economy, as well as its own immigration and international trade regimes. EU officials regard this approach as unacceptable cherry picking. Barnier said Thursday that the EU single market must be preserved and protected.