This article first appeared in The Edge Malaysia Weekly, on July 16, 2018 - July 22, 2018.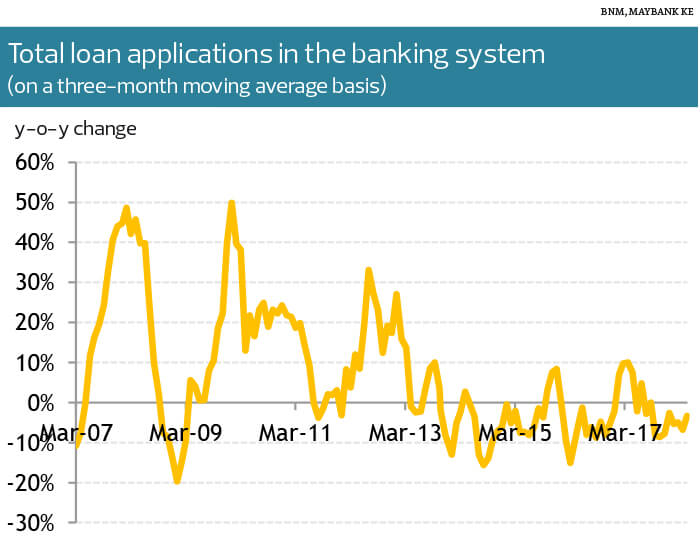 BANKS have been flooded with car loan applications ever since the Goods and Services Tax (GST) was zero-rated in June, as consumers rush to take advantage of the three-month tax holiday.
Cars are being snapped up, so much so that certain variants of popular marques like Toyota, Honda and Perodua are out of stock, anecdotal evidence suggests.
"My company has already met its sales target for the full year. We know a lot of bank officers have been working overtime just to process car loans," says Alvin Chia, manager of P2 Automobile Sdn Bhd, an authorised sales dealer for Perodua.
Six banks that The Edge contacted — Malayan Banking Bhd, CIMB Group Holdings Bhd, RHB Bank Bhd, Hong Leong Bank Bhd, AmBank Bhd and Affin Bank Bhd — acknowledge that demand for car financing has indeed shot up since June.
All six saw an increase in vehicle financing applications during the month and most of them say their approval rates have also improved.
Many, however, do not expect this bumper sales period to provide a major boost to vehicle loan growth this year as they expect demand for cars to cool once the government brings back the Sales and Services Tax (SST) in September.
 
What they say
RHB's acting head for group retail banking, Nazri Othman, says applications for vehicle financing in June increased 12% from a month ago and 75% from a year ago. The bank has taken active measures to grow its hire purchase business more aggressively this year.
According to Nazri, RHB's approval rates for such financing improved 5% month on month in June, although credit underwriting remained unchanged.
"We expect our loan growth target for vehicle financing to be between 7% and 9% in 2018 compared with a 5% contraction in 2017. However, we anticipate lower vehicle loan applications in 4Q2018 due to the expected implementation of SST," he says.
Over at Maybank, applications for automotive financing in June increased 9% from a month ago and some 20% from a year ago.
"The approval rates also increased, by 7% in June," its head for community financial services in Malaysia, Datuk Hamirullah Boorhan, says.
Maybank is sticking to its automotive financing growth target of 5.4% for this year, which is similar to last year's.
"We are not planning to revise our automotive financing growth target at the moment as this could be temporary in nature. We will await the government's announcement on the SST rate to ascertain its impact on the automotive industry before we consider revising our estimates," Hamirullah says.
At Hong Leong Bank (HLB), applications for vehicle financing in June rose more than 30% from a month ago and more than 50% from a year ago.
"HLB's approval rate has gone up too, largely due to new car sales, which generally have better approval rates. We are expecting a rebound [in vehicle loan growth] in 2018, coming off two years of decline, due to higher-than-normal replacement sales," says Charles Sik, managing director of personal financial services. 
At AmBank, car loan application submissions in June increased 15.3% from a month ago. However, submissions were lower than in June last year.
A spokesperson for the bank says there was no change in AmBank's approval rates. "AmBank remains focused on maintaining a strong risk profile, and we conduct our approval process based on specific risk policies and criteria. As part of our digital push, we have also enabled our automotive finance marketing officers and placed mobile application tablets at selected automotive-dealer locations, offering customers the convenience of availing themselves of a loan right at the point of sale."
AmBank does not expect a surge in vehicle financing growth this year. "Our target remains focused on sustaining our current auto finance balances," the spokesperson says.
Affin Bank, meanwhile, saw a "slight" increase in vehicle financing applications in June, both on a month-on-month and year-on-year basis.
"Approval rates increased marginally," says group CEO Kamarul Ariffin Mohd Jamil. He expects vehicle financing growth to remain flat this year as the bank expects "a very slow fourth quarter" following the three-month tax break.
CIMB Group has seen "positive" growth in vehicle loan sales volume over the last two months, thanks to an increase in new car sales and CIMB campaigns, says Vipin Agrawal, the regional head of cards, retail assets and deposits of group consumer banking.
"Car loan disbursements have increased by over 30% month on month in June. CIMB's approval rates have remained steady," he says.
The group believes the recent surge in car sales is a one-off impact of the zero-rated GST. "We expect higher auto financing volume this year, both due to the zero-rated GST and CIMB campaigns, although we are mindful that this may be moderated by the SST's introduction later this year," Vipin says.
Meanwhile, Public Bank is widely seen as the market leader in the automotive financing space.
Banks that had the highest proportion of automotive loans to their overall loan book as at end-2017 were Affin Bank (28%), AmBank (21%), Public Bank (17%) and Maybank (13%).
Margins in the automotive financing space are thin, given the stiff competition out there, which is why some banks choose not to pursue the business aggressively. 
The non-performing loan ratio for passenger cars is low, at 0.88% as at May.
 
No boost to loan growth
Analysts wonder if the strong car sales seen in June will stretch over the other two months of the tax holiday, given that popular marques are already out of stock. That is another reason why many are not expecting a boost in vehicle loan growth this year.
"It's one thing to have very strong demand but another as to whether the companies actually have the cars to deliver on time. It's a question of whether the car companies can ramp up their production quickly enough," says Fiona Leong, a banking analyst at RHB Research.
Given that car sales were weak in the last few years, many of the companies have low inventory levels.
The number of vehicles sold in Malaysia annually has come down from its peak in 2015. Last year, the number fell 0.6% to 576,635 units and in 2016, it fell 13% to 580,124, based on the Malaysian Automotive Association's data.
In the first five months of this year, vehicle sales stood at 225, 212, a 3.8% drop from the same period a year ago.
This weakness was reflected in car loan applications in the banking system.
According to Maybank Investment Bank Research, automotive loan applications, on a three-month moving average basis, contracted in May (-3.3%) for the eighth consecutive month due to sluggish sales. Loan approvals contracted 2.9% year on year compared with 3.5% growth in April.
"As a result, the average approval rate was a lower 51% in May versus 55% in April," the research house says in a recent report. Consumers likely held back from buying cars in May to take advantage of the 0% GST in June.
As at end-May, passenger cars accounted for RM159.05 billion or about 9.8% of the banking system's total loans of RM1.61 trillion. 
Save by subscribing to us for your print and/or digital copy.
P/S: The Edge is also available on Apple's AppStore and Androids' Google Play.