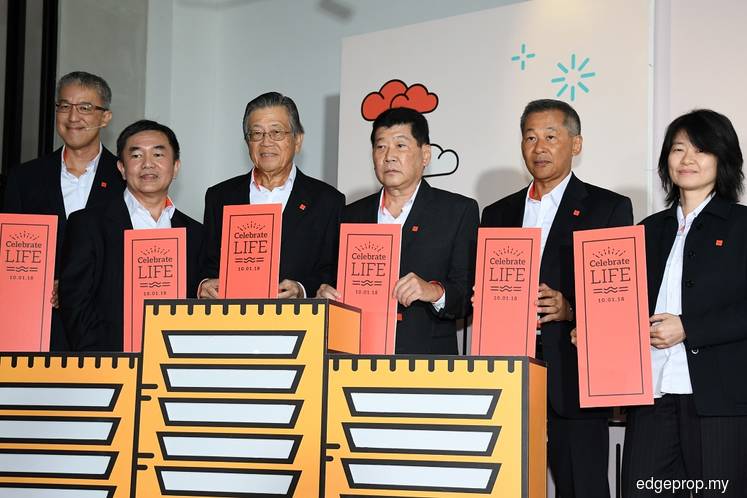 PUCHONG (Jan 10): Plantation and property group Ayer Holdings Bhd (formerly known as TAHPS Group Bhd) is looking at launching two new projects in its Bukit Puchong township in the second half of this year (2H18), said group CEO Eugene Khoo.
The two upcoming projects — a landed homes development and a non-landed residential development — will be similar to Ayer Holdings' latest launch, Andira Park, which was priced at about RM600,000 or RM400 psf.
Sitting on 8.33 acres of land in Bukit Puchong, Andira Park comprises 135 units of 2- and 3-storey link villas with a built-up of 1,583 sq ft and 1,789 sq ft, respectively, and five units of 3-storey terraced houses with a built-up of 2,347 sq ft.
The project was launched in August and September over two phases and is fully sold.
"Our target is the mass market. We are looking at some landed and high-rise properties in Bukit Puchong. I believe the market will improve in the second half of 2018 because of better sentiment, which is expected to be driven by the positive growth in our economy," he said.
Khoo was speaking to reporters after a ceremony to unveil the company's new real estate brand, "AYER", today.
He said the company will be having more launches and activities planned for the 1,290-acre Bukit Puchong this year, and the team is working with consultants and is at an advanced stage of redesigning the master plan of the township.
"While we design and plan our new projects according the needs of the market, we are also looking at making the township integrated and self-sustaining.
"We will continue to develop the education components in the township while looking for partners to build healthcare and recreational facilities," he shared.
Ayer Holdings has started preliminary discussions with several parties — both local and from overseas — to explore opportunities to bring the components into Bukit Puchong, he added.
Alongside Ayer Holdings' rebranding exercise, its Bukit Puchong township development in Selangor will now be known as "Bukit Puchong by AYER".
"When we reached our centennial year 11 years ago in 2007, we changed our name (from The Ayer Hitam Planting Syndicate Bhd) to TAHPS Group as the original name was quite a mouthful. Since then, we realised we needed greater clarity as many continued to call us Ayer Hitam or Bukit Hitam, which is our subsidiary and developer of Bukit Puchong.
"When we reached 110 years as a corporation last year, we decided to re-brand ourselves into a brand which all stakeholders can immediately identify and for us to differentiate ourselves further," he said.
He added that AYER was a real estate group with a track record of delivering on time and on budget, with a history of solid, steady growth.
"We want people to know that. So, we needed a brand to signal to the world that, yes, we are a reputable, trusted developer and one which has been around since 1907!"
Khoo expressed hope that the thousands of satisfied customers who have supported the group over the years would now continue to choose its future offerings under AYER.
"The AYER team will continue to deliver quality homes," he added.
At Bukit Puchong alone, the company has built about 7,000 homes, commercial units and industrial buildings to date.
The remaining lands available for development stand at about 600 acres.