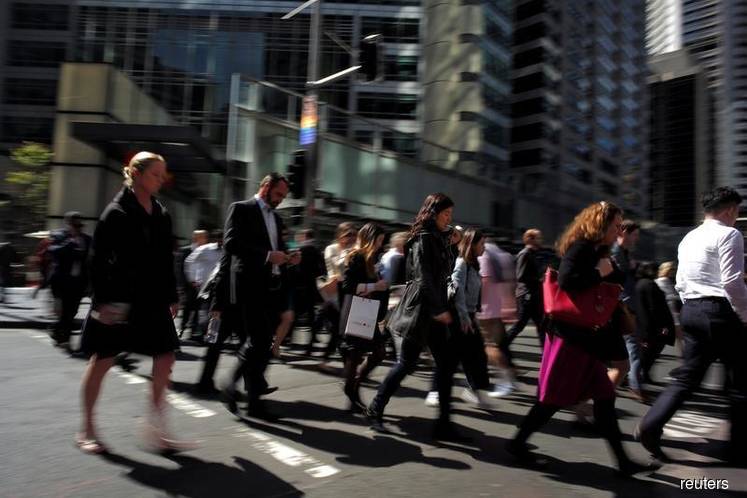 (Sept 5): Australia's economy grew faster than expected in the second quarter as households ran down savings to finance spending. The currency jumped.
GDP advanced 0.9% from prior quarter vs estimated 0.7% gain GDP climbed 3.4% from year earlier vs forecast 2.9% rise -- the fastest since the third quarter of 2012 Household savings ratio was 1% in 2Q vs a revised 1.6% in prior three months Aussie dollar rose, buying 72.11 U.S. cents at 11:49 a.m. in Sydney vs 71.89 pre-data.
The data span a period when government spending helped offset softer business investment and Australia enjoyed a prolonged tailwind from revived exports following disruptions late last year. Hiring remained solid and unemployment fell, suggesting support for consumption remained even as households struggle with heavy debt and weak wages.
The central bank is playing an anchor role, keeping the benchmark interest rate at a record-low to help drive growth to above-average levels and soak up spare capacity in the labor market, a precursor to faster wage gains and higher inflation. Governor Philip Lowe acknowledges the process will be gradual, while maintaining the next rate move is likely to be up.
"The Australian economy is moving in the right direction," Lowe said in Perth Tuesday evening, having earlier kept rates unchanged at 1.5 percent for a 23rd meeting. "We are seeking to be a source of stability and confidence, as further progress is made towards full employment and having inflation return to around the midpoint of the target range."
Traders are pricing in little chance of a rate hike before 2020 as international experience suggests that even as economies reach full employment -- a level Australia remains shy of -- they still struggle to generate higher pay and faster inflation.
Furthermore, Australia is the developed world's most China-dependent economy and the prospect of a deepening trade war between the world's two largest economies has the potential to reverberate Down Under. - Bloomberg