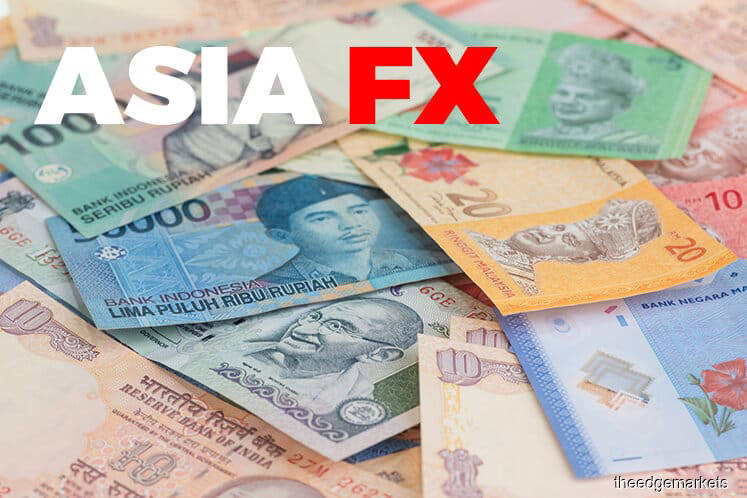 (Oct 19): Asian currencies softened against the US dollar on Thursday as the greenback firmed overnight, while the yuan retreated after data showed China's economic growth eased in the third quarter.
The US dollar hit its highest in about two weeks versus the yen on Thursday, with the near-term focus on US President Donald Trump's decision on the next chair of the Federal Reserve.
Investors are also worried about whether Republican leaders can must enough votes from their own members to pass a tax reform bill which is crucial to the president's agenda.
"Asian currencies are generally softer against the dollar, probably on optimism that the US tax reforms would be passed, and also because there's increased speculation that the next Fed chief could be someone more hawkish," said Chang Wei Liang, FX strategist at Mizuho Bank in Singapore.
The yuan was on track for its fourth consecutive session of declines against the US dollar.
China's economic growth slowed slightly in the third quarter to 6.8% as the government's efforts to rein in property market and debt risks tempered activity in the world's second-largest economy.
While that reading was in line with economists' forecasts, some investors had expected a stronger number after central bank governor Zhou Xiaochuan said at the weekend that growth may hit 7% in the second half of this year.
The Taiwan dollar also edged lower against the US dollar, while the Indonesian rupiah followed suit.
The Indonesian Central Bank, which surprised the market with cuts at its last two policy meetings, is expected to keep interest rates unchanged in its meeting later in the global day, according to a Reuters poll.
The Indian rupee did not trade as markets were closed for a public holiday.
CHINESE YUAN
The yuan fell as the People's Bank of China set the offical yuan mid-point at 6.6093 to the US dollar, compared to the currency's previous close of 6.6271.
"Since the (GDP) numbers are largely in line with consensus, I don't expect much change. Hence, the direction of the US dollar is expected to play a bigger role for now," said Tariq Ali, investment strategist at Standard Chartered Bank.
SOUTH KOREAN WON
The South Korean won fell to a 1-week low against the US dollar on Thursday, as the country's central bank kept interest rates steady, as expected.
The central bank however, upgraded its growth outlook and took a bullish view on the economy, boosting chances of a rate hike in the coming months.
"External factors probably play a bigger role in determining the outlook of the won...most of the positives seen in 2017 appear to be priced-in for now and it seems that we have already seen the high for the KRW this year," Ali said.
The following table shows rates for Asian currencies against the US dollar as of 0506 GMT.
CURRENCIES VS US DOLLAR
Change on the day as of 0506 GMT
| | | | |
| --- | --- | --- | --- |
| Currency | Latest bid | Previous day | % move |
| Japan yen | 112.980 | 112.92 | -0.05 |
| Sing dlr | 1.359 | 1.3565 | -0.16 |
| Taiwan dlr | 30.228 | 30.200 | -0.09 |
| Korean won | 1132.800 | 1129.9 | -0.26 |
| Baht | 33.140 | 33.14 | +0.00 |
| Peso | 51.480 | 51.405 | -0.15 |
| Rupiah | 13523.000 | 13515 | -0.06 |
| Ringgit | 4.225 | 4.222 | -0.07 |
| Yuan | 6.632 | 6.6271 | -0.07 |
Change so far in 2017
| | | | |
| --- | --- | --- | --- |
| Currency | Latest bid | End 2016 | % move |
| Japan yen | 112.980 | 117.07 | +3.62 |
| Sing dlr | 1.359 | 1.4490 | +6.65 |
| Taiwan dlr | 30.228 | 32.279 | +6.79 |
| Korean won | 1132.800 | 1207.70 | +6.61 |
| Baht | 33.140 | 35.80 | +8.03 |
| Peso | 51.480 | 49.72 | -3.42 |
| Rupiah | 13523.000 | 13470 | -0.39 |
| Ringgit | 4.225 | 4.4845 | +6.14 |
| Yuan | 6.632 | 6.9467 | +4.75 |