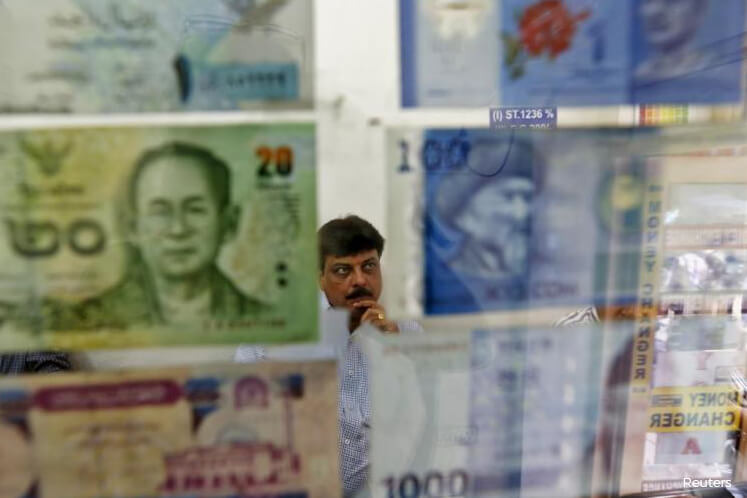 BENGALURU (Aug 23): Asian currencies fell against a resurgent dollar on Thursday as investors awaited US Federal Reserve Chair Jerome Powell's speech on Friday for fresh cues.
Markets were looking to a speech by Fed Chairman Jerome Powell at the Jackson Hole meetings on Friday, amidst widespread speculation over a possible fourth US rate hike this year.
A third interest rate hike for the year is widely expected from the Fed in September.
The US dollar recovered after falling for six straight sessions, as the US and China imposed 25% tariffs on about US$16 billion worth of each other's goods.
US and Chinese officials met on Wednesday to negotiate their trade ties, but there was little evidence that the low-level talks would result in immediate action.
"After the recent pullback in the US dollar over the past few days we're just seeing some profit-taking and consolidation (in Asian currencies)," said Khoon Goh, ANZ's head of Asia research, based in Singapore.
"The Fed chair's speech (for the central bankers' annual meeting) at Jackson Hole at the end of the week is a big focus for markets, and I think right now we're at a bit of a consolidation phase at this point in time."
The Chinese yuan fell about 0.5% to the dollar, its biggest intraday drop in a week and breaking five straight sessions of gains.
The currency has lost about 5% versus the dollar this year, primarily on fears arising from the US-China trade dispute.
The United States is holding hearings this week on a proposed list of an additional US$200 billion worth of Chinese imports to face duties.
ANZ's Goh said that the tariffs coming into play on Thursday are largely priced in, but the planned additional tariffs could cause further volatility.
The Indian rupee softened versus the dollar as oil prices surged overnight after US government data showed a larger-than-expected draw from crude inventories.
The rupee is the worst-performing Asian currency this year, having lost nearly 9% to the dollar in the year to date, reflecting in part India's exposure to oil price volatility.
Indonesia's rupiah shed about 0.4% due to high dollar demand from local importers, prompting the central bank to intervene in the market.
Bank Indonesia has been struggling to stabilise the falling rupiah, and has hiked its benchmark interest rate four times since May.
SINGAPORE DOLLAR
The Singapore dollar shed as much as 0.37% to the dollar, its biggest intraday fall in nearly two weeks.
Singapore's inflation hit its fastest pace in nearly four years in July, bolstering the central bank's expectation of inflation coming in at the upper end of its 1-2% forecast range for the year.
"The Singapore dollar has strengthened to a key technical level and I think at this point in time there's a reluctance to push past a key technical level ahead of Powell's speech," ANZ's Goh added.
The following table shows rates for Asian currencies against the dollar as at 0553 GMT.
CURRENCIES VS US DOLLAR
Change on the day
| | | | |
| --- | --- | --- | --- |
| Currency | Latest bid | Previous day | % move |
| Japan yen | 110.880 | 110.54 | -0.31 |
| Sing dlr | 1.371 | 1.3664 | -0.30 |
| Taiwan dlr | 30.772 | 30.730 | -0.14 |
| Korean won | 1121.800 | 1118.9 | -0.26 |
| Baht | 32.800 | 32.76 | -0.12 |
| Peso | 53.487 | 53.36 | -0.24 |
| Rupiah | 14633.000 | 14575 | -0.40 |
| Rupee | 70.090 | 69.81 | -0.40 |
| Ringgit | 4.103 | 4.096 | -0.17 |
| Yuan | 6.871 | 6.8388 | -0.47 |
Change so far in 2018
| | | | |
| --- | --- | --- | --- |
| Currency | Latest bid | End 2017 | % move |
| Japan yen | 110.880 | 112.67 | +1.61 |
| Sing dlr | 1.371 | 1.3373 | -2.42 |
| Taiwan dlr | 30.772 | 29.848 | -3.00 |
| Korean won | 1121.800 | 1070.50 | -4.57 |
| Baht | 32.800 | 32.58 | -0.67 |
| Peso | 53.487 | 49.93 | -6.65 |
| Rupiah | 14633.000 | 13565 | -7.30 |
| Rupee | 70.090 | 63.87 | -8.87 |
| Ringgit | 4.103 | 4.0440 | -1.44 |
| Yuan | 6.871 | 6.5069 | -5.30 |