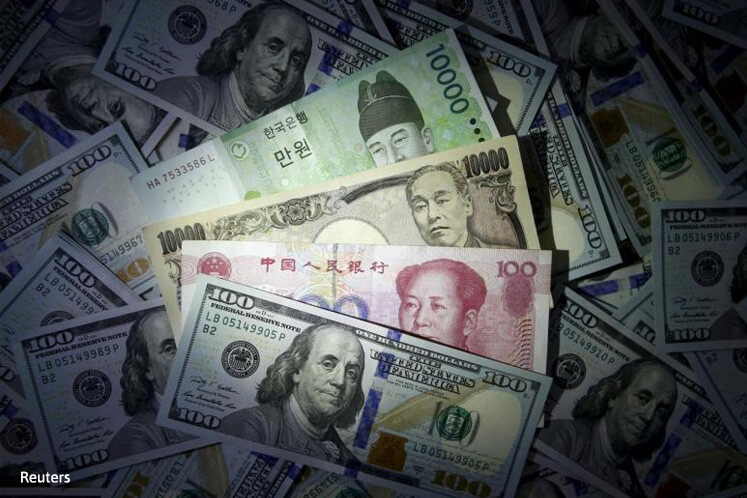 (Oct 4): Asian currencies firmed on Wednesday, with the Thai baht headed for its best day in nearly ten weeks, as the US dollar's rally lost steam following speculation that when Fed Chair Janet Yellen retires in February her successor might be the less hawkish of two leading candidates.
The US dollar, which had rallied earlier this week, eased slightly after the Politico website reported that US Treasury Secretary Steven Mnuchin favours Fed governor Jerome Powell, over former governor Kevin Warsh, who was perceived to hold a more hawkish stance.
Meanwhile, the World Bank raised its 2017, 2018 growth forecast for East Asia and projected an upward economic growth forecast for Malaysia stating it was lifted by higher investment and a recovery in global trade. The Malaysian ringgit nudged up and was on track for its best day in nearly three weeks.
In other currencies, the Thai baht appreciated 0.3%, and was set for its best day since July 27. Thailand's strong recovery in exports and tourism prompted an upbeat outlook for the economy by the World Bank.
The Philippine peso inched up 0.3%. The country's central bank governor proclaimed that the tax reforms planned by the government will only have a modest impact on inflation and will not require any changes to monetary policy.
The Indonesian rupiah also recorded marginal gains after the finance ministry's financing and risk management office said it raised 17.85 trillion rupiah worth of bonds, above an indicative target of 15 trillion rupiah.
Taiwan, China and South Korea markets were closed for a holiday.
INDIAN RUPEE
The Indian rupee rose slightly ahead of a policy meeting later in the day.
The Reserve Bank of India is expected to keep its policy rate unchanged despite a sharp slowdown in economic growth, after inflation surged to a five-month high, threatening the central bank's target.
"Not surprisingly, the committee is under pressure to ease rates in midst of slowing growth and wide cushion of real rates with inflation at sub-4%, while the repo rate is at 6%," DBS said in a note.
"The RBI's interpretation of the growth slowdown will also garner interest. We expect benchmark rates to be held unchanged for the rest of the year, whilst looking for today's policy commentary for guidance."
The following table shows rates for Asian currencies against the US dollar at 0500 GMT.
CURRENCIES VS US DOLLAR
Change on the day at 0500 GMT
| | | | |
| --- | --- | --- | --- |
| Currency | Latest bid | Previous day | % move |
| Japan yen | 112.640 | 112.84 | +0.18 |
| Sing dlr | 1.361 | 1.3619 | +0.10 |
| Baht | 33.360 | 33.435 | +0.22 |
| Peso | 50.960 | 51.05 | +0.18 |
| Rupiah | 13475.000 | 13540 | +0.48 |
| Rupee | 65.360 | 65.50 | +0.21 |
| Ringgit | 4.225 | 4.2375 | +0.31 |
Change so far in 2017
| | | | |
| --- | --- | --- | --- |
| Currency | Latest bid | End 2016 | % move |
| Japan yen | 112.640 | 117.07 | +3.93 |
| Sing dlr | 1.361 | 1.4490 | +6.50 |
| Baht | 33.360 | 35.80 | +7.31 |
| Peso | 50.960 | 49.72 | -2.43 |
| Rupiah | 13475.000 | 13470 | -0.04 |
| Rupee | 65.360 | 67.92 | +3.92 |
| Ringgit | 4.225 | 4.4845 | +6.15 |