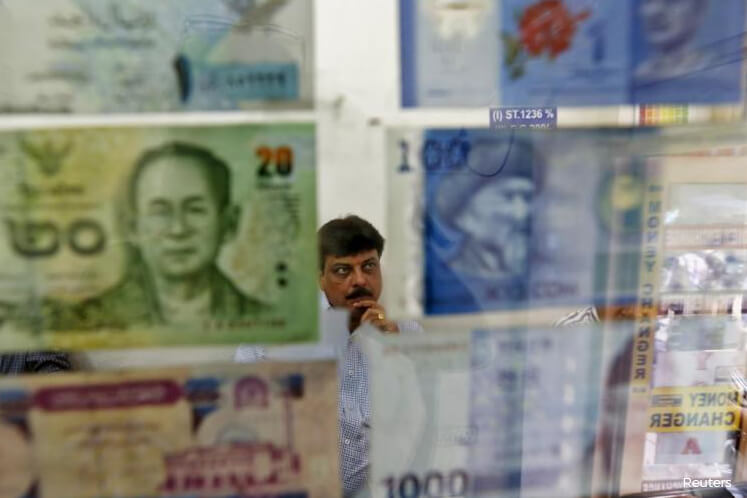 (Oct 5): Most Asian currencies took a knock on Thursday as the US dollar firmed on US economic data that showed strong growth in the country's service sector.
US service sector growth rate hit its fastest in 12 years in September, helping the dollar index against a group of six rivals rise marginally.
Other data showed private employers in the US added more jobs than forecast despite the impact of Hurricanes Harvey and Irma.
Markets are now awaiting US non-farm payrolls data, due on Friday.
The Indian rupee also weakened slightly after the Reserve Bank of India (RBI) kept its policy rate unchanged, which was within sight of seven-year lows, due to the surge in inflation.
The RBI plans to lower its statutory liquidity ratio, the amount of bonds that banks must set aside with the central bank, to accelerate lending in the economy.
"These transmission efforts will boost supply-side credit stimulus, but credit demand given strapped corporate balance sheets may be the variable to watch," Mizuho Daily said in a note.
In other Asian currencies, the Singapore dollar was among the biggest decliners, falling 0.2% against the US dollar.
The Thai baht and the Indonesian rupiah also inched lower.
Meanwhile, the Taiwan dollar crawled up, headed for its best day in about 4 weeks.
China, Hong Kong and South Korea markets are closed for a holiday.
PHILIPPINE PESO
The Philippine Peso was slightly lower with the upbeat US data and heightened chances of a Fed rate hike at the end of the year weighing on the currency.
Local data revealed the country's annual inflation for September outpaced expectations with the consumer price index (CPI) rising 3.4% in September, exceeding economists' forecast of 3.2%.
The central bank expects inflation to average 3.2% this year and some economists predicted that the governing body would push up rates as early as this quarter, according to a poll by Reuters.
"The upward risks to inflation may now prompt the central bank to turn more hawkish. We remain of the view that a 25bps rate hike is likely either in November or December," DBS Research said in a note.
The following table shows rates for Asian currencies against the US dollar at 0602 GMT.
CURRENCIES VS US DOLLAR
Change on the day at 0602 GMT
| | | | |
| --- | --- | --- | --- |
| Currency | Latest bid | Previous day | % move |
| Japan yen | 112.750 | 112.74 | -0.01 |
| Sing dlr | 1.364 | 1.3609 | -0.21 |
| Taiwan dlr | 30.342 | 30.450 | +0.36 |
| Baht | 33.370 | 33.34 | -0.09 |
| Peso | 51.010 | 51 | -0.02 |
| Rupiah | 13485.000 | 13475 | -0.07 |
| Rupee | 65.163 | 65.01 | -0.23 |
| Ringgit | 4.227 | 4.226 | -0.02 |
Change so far in 2017
| | | | |
| --- | --- | --- | --- |
| Currency | Latest bid | End 2016 | % move |
| Japan yen | 112.750 | 117.07 | +3.83 |
| Sing dlr | 1.364 | 1.4490 | +6.26 |
| Taiwan dlr | 30.342 | 32.279 | +6.38 |
| Baht | 33.370 | 35.80 | +7.28 |
| Peso | 51.010 | 49.72 | -2.53 |
| Rupiah | 13485.000 | 13470 | -0.11 |
| Rupee | 65.163 | 67.92 | +4.23 |
| Ringgit | 4.227 | 4.4845 | +6.09 |