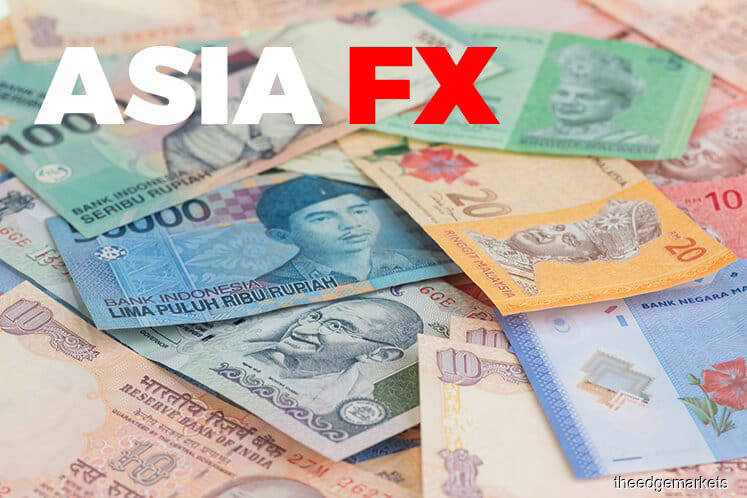 (Oct 24): Asian currencies rose slightly against the dollar on Tuesday as investors held off on buying the US currency as attention turned towards who would be the next head of the Federal Reserve, as well as a European Central Bank meeting later in the week.
US President Donald Trump told reporters on Monday he is "very, very close" to deciding on who should chair the Federal Reserve.
Appointment of a more hawkish candidate could bump up the dollar and add pressure on Asian currencies.
Investors were also wary ahead of the ECB policy meeting later in the week, which could set the tone for the dollar, and in turn Asian currencies, for the long term.
"The market is interested in how much the ECB will trim monthly bond purchases and how long it will extend its quantitative easing programme beyond the end of 2017, which is its current expiry date," said Gao Qi, Asia FX Strategist at Scotiabank.
He added that speculation over the Fed's leadership would affect the dollar's strength, although the direct impact would be difficult to estimate.
The South Korean won rose to a 1-week high against the dollar, on track for its third consecutive session of gains.
"In the weeks ahead, the won will continue to trade in line with swinging risk sentiment, while remaining susceptible to external uncertainty including the US tax reform plan, the nomination of the next Fed Chair and the geopolitical situation on the peninsula," Scotiabank said in a research note.
The Indonesian rupiah also rose against the dollar, as Indonesian stocks touched a record high.
The International Energy Agency said oil, together with coal, will lead growth in Southeast Asia's power and transport sectors as the region's energy demand is expected to climb nearly 60% by 2040 from now, a scenario the coal exporter stands to largely benefit from.
SINGAPORE DOLLAR
The Singapore dollar was among the top intraday percentage gainers in Asian currencies, clocking its best rise against the dollar in nearly two weeks.
Singapore's headline consumer price index in September rose 0.4% from a year earlier due to higher services inflation, and met the median forecast in a Reuters poll.
The following table shows rates for Asian currencies against the dollar as of 0424 GMT.
CURRENCIES VS US DOLLAR
Change on the day as of 0424 GMT
| | | | |
| --- | --- | --- | --- |
| Currency | Latest bid | Previous day | % move |
| Japan yen | 113.330 | 113.42 | +0.08 |
| Sing dlr | 1.359 | 1.3618 | +0.20 |
| Taiwan dlr | 30.251 | 30.262 | +0.04 |
| Korean won | 1127.600 | 1130.2 | +0.23 |
| Baht | 33.150 | 33.171 | +0.06 |
| Peso | 51.475 | 51.51 | +0.07 |
| Rupiah | 13525.000 | 13540 | +0.11 |
| Rupee | 64.935 | 65.02 | +0.13 |
| Ringgit | 4.233 | 4.236 | +0.08 |
| Yuan | 6.628 | 6.6385 | +0.16 |
Change so far in 2017
| | | | |
| --- | --- | --- | --- |
| Currency | Latest bid | End 2016 | % move |
| Japan yen | 113.330 | 117.07 | +3.30 |
| Sing dlr | 1.359 | 1.4490 | +6.61 |
| Taiwan dlr | 30.251 | 32.279 | +6.70 |
| Korean won | 1127.600 | 1207.70 | +7.10 |
| Baht | 33.150 | 35.80 | +7.99 |
| Peso | 51.475 | 49.72 | -3.41 |
| Rupiah | 13525.000 | 13470 | -0.41 |
| Rupee | 64.935 | 67.92 | +4.60 |
| Ringgit | 4.233 | 4.4845 | +5.95 |
| Yuan | 6.628 | 6.9467 | +4.81 |