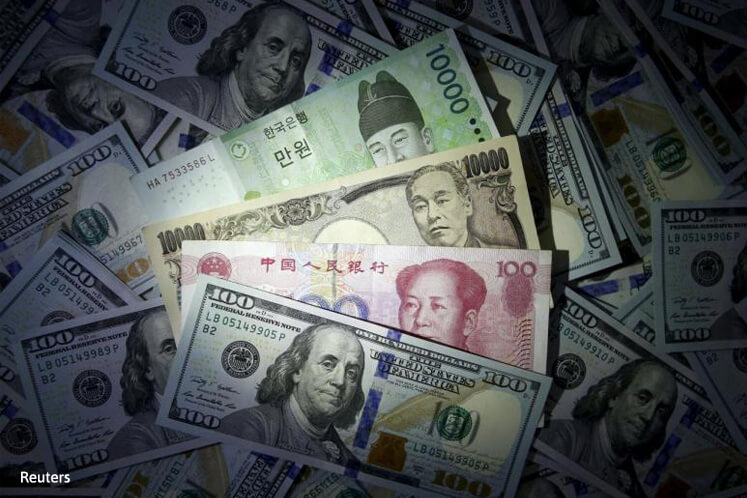 BENGALURU (Sept 5): Most Asian currencies weakened on Wednesday as fears of contagion from Argentina and other emerging markets buffeted the region, although suspected central bank intervention put a floor under the Indonesian rupiah and the Indian rupee.
Stock markets fell across the region and the safe-haven dollar hovered near a two-week high as heightened worries over international trade conflicts and emerging market weakness curbed investors' appetite for riskier assets.
Risk appetite for emerging market assets was further soured after South Africa's economy fell into recession, joining Turkey and Argentina. The Turkish lira and Argentinean peso extended losses.
Indonesian stocks fell as much as 4.8% — their biggest one-day loss in at least five years — while Philippine stocks sank more than 2% at one point.
Investors were also wary about the prospect of fresh US tariffs on another US$200 billion of Chinese goods that could be unveiled after a public comment period on such a proposal ends on Thursday. Market participants also awaited key US payroll data later in the week.
"At this point there's still further pressure on emerging markets generally, and markets are awaiting two key events- one is the US payrolls numbers and secondly whether or not the US will announce the tariffs when the consultation period ends," said Khoon Goh, ANZ's Singapore-based head of Asia research.
The Philippine peso, which has fallen against the dollar the past five days, rose about 0.12%, in contrast to the country's stocks.
The annual inflation rate quickened at its fastest in more than nine years in August, implying that a fourth interest rate hike by the Philippine central bank may be on the cards.
The country has been struggling to contain inflation, as well as a large current account deficit.
The Malaysian ringgit fell 0.14% to the dollar and touched its lowest level since November 2017 as the central bank held its benchmark interest rate steady at a meeting on Wednesday, as expected.
Malaysian exports grew more than expected in July on higher shipments to China and increased demand for manufactured goods.
INDONESIAN RUPIAH
The Indonesian rupiah hovered around levels last seen during the Asian financial crisis two decades ago.
The central bank said it had "decisively intervened" in the foreign exchange and bond markets on Wednesday to curb volatility.
Thanks to the intervention, "we have a stable rupiah today, but on the other side the demand for hedging is up, and there is already increased activity in the non-deliverable forwards (NDF) market," said Fakhrul Fulvian, chief economist at Trimegah Securities.
"It indicates that rupiah depreciation is likely to continue."
The rupiah has lost more around 1% over the past three days, after shedding more than 2% in August.
Indonesian President Joko Widodo said on Wednesday that a priority was to increase investment and exports to contain the current account deficit, which has dragged on the currency.
The government also promised strict action against currency speculators, and announced plans to delay import-heavy energy projects in a bid to push up the rupiah.
At 0604 GMT, one-year rupiah NDFs were quoted at 16,251 per dollar, 8.9% weaker than the spot level.
The Indonesian equities market has seen outflows of US$3.68 billion so far this year as of Sept 4. Indonesia saw net outflows of US$2.96 billion in 2017, according to stock exchange data.
INDIAN RUPEE
The Indian rupee fell 0.49% to the dollar.
The Reserve Bank of India likely sold dollars at 71.80 rupees in the local spot forex market to stem the sharp fall, two traders told Reuters.
The following table shows rates for Asian currencies against the dollar at 0723 GMT.
CURRENCIES VS US DOLLAR
Change on the day
| | | | |
| --- | --- | --- | --- |
| Currency | Latest bid | Previous day | % move |
| Japan yen | 111.410 | 111.44 | +0.03 |
| Sing dlr | 1.381 | 1.3759 | -0.33 |
| Taiwan dlr | 30.780 | 30.766 | -0.05 |
| Korean won | 1121.500 | 1114.9 | -0.59 |
| Baht | 32.860 | 32.79 | -0.21 |
| Peso | 53.547 | 53.61 | +0.12 |
| Rupiah | 14926.000 | 14930 | +0.03 |
| Rupee | 71.930 | 71.58 | -0.49 |
| Ringgit | 4.143 | 4.137 | -0.14 |
| Yuan | 6.841 | 6.8450 | +0.06 |
Change so far in 2018
| | | | |
| --- | --- | --- | --- |
| Currency | Latest bid | End 2017 | % move |
| Japan yen | 111.410 | 112.67 | +1.13 |
| Sing dlr | 1.381 | 1.3373 | -3.13 |
| Taiwan dlr | 30.780 | 29.848 | -3.03 |
| Korean won | 1121.500 | 1070.50 | -4.55 |
| Baht | 32.860 | 32.58 | -0.85 |
| Peso | 53.547 | 49.93 | -6.75 |
| Rupiah | 14926.000 | 13565 | -9.12 |
| Rupee | 71.930 | 63.87 | -11.21 |
| Ringgit | 4.143 | 4.0440 | -2.39 |
| Yuan | 6.841 | 6.5069 | -4.88 |