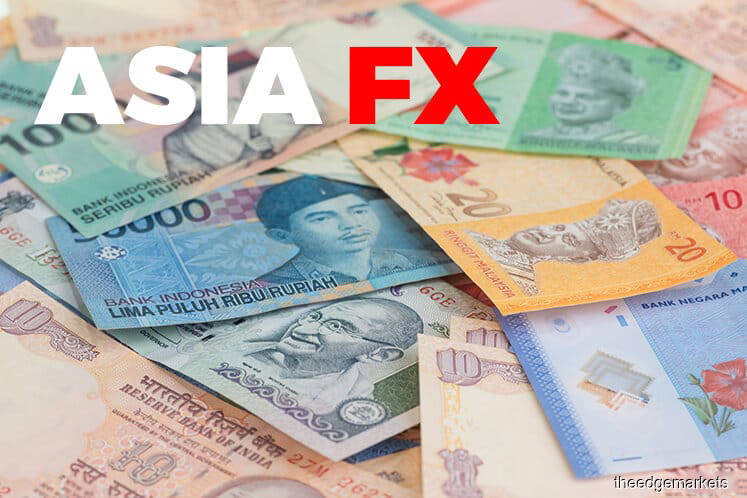 (Oct 12): Asian currencies were most higher on Thursday as uncertainty over the US inflation outlook weighed on the US dollar.
Minutes of the US central bank's latest policy meeting shed light on growing concerns over the persistently low inflation in the US economy and raised questions about the interest rate hike expected in December.
Many policymakers admitted that additional tightening or changes to the monetary policy was dependant on how inflation pans out for the rest of the year.
The Fed minutes revealed some doubts as to whether weak inflation is "transitory", Mizuho Daily said in a note.
The dollar index, that checks the US dollar against a basket of currencies, sank to a two-week low.
"Risk appetite is fairly firm and the weakness in the dollar is giving some support to Asian currencies," said Mitul Kotecha, head of Asia macro strategy in Barclays.
Among emerging Asian currencies, the Korean won was helped by further inflows into Seoul's KOSPI share index, which hit a new high as foreign investors added to their bets on strong earnings reports later in the week.
The Malaysian ringgit rose marginally after data showed the country's industrial production in August grew at its fastest pace since March 2015.
"In Malaysia, some degree of moderation heading into 2018 can be expected. Deleveraging in China, rising trade protectionism and normalisation of global monetary policies could keep external demand in check," DBS Group research said in a note.
The Singapore dollar, the Taiwan dollar and the Thai baht rose to levels unseen since Sept 26.
The baht also continued to be supported by news that the country would hold general elections next year after a long period of military rule.
The Taiwan dollar gained as September exports picked up at their fastest pace in over seven years.
The Philippine peso, on the other hand, looked set for its fifth losing session out of six.
Government officials insisted on Wednesday that prospects for attracting more foreign investment remained bright, but that failed to lighten the mood after a drastic drop in foreign equity inflows in the first half of the year.
SINGAPORE DOLLAR
The Singapore dollar rose to its highest in over two weeks, ahead of a policy announcement from the Monetary Authority of Singapore on Friday.
The central bank is expected to stand pat on monetary policy at its semi-annual review as inflation remains subdued, according to analysts polled by Reuters.
"The market appears positioned for a hawkish tilt ahead of the policy meeting," DBS Research said in a note, while adding that it thinks the bank may stick with its forward guidance of keeping to a neutral stance for an extended period.
The following table shows rates for Asian currencies against the US dollar at 0459 GMT.
CURRENCIES VS US DOLLAR
Change on the day at 0459 GMT
| | | | |
| --- | --- | --- | --- |
| Currency | Latest bid | Previous day | % move |
| Japan yen | 112.340 | 112.48 | +0.12 |
| Sing dlr | 1.353 | 1.3541 | +0.08 |
| Taiwan dlr | 30.220 | 30.232 | +0.04 |
| Korean won | 1134.000 | 1135.2 | +0.11 |
| Baht | 33.100 | 33.21 | +0.33 |
| Peso | 51.380 | 51.35 | -0.06 |
| Rupiah | 13499.000 | 13515 | +0.12 |
| Rupee | 65.140 | 65.14 | +0.00 |
| Ringgit | 4.214 | 4.22 | +0.14 |
| Yuan | 6.590 | 6.5882 | -0.03 |
Change so far in 2017
| | | | |
| --- | --- | --- | --- |
| Currency | Latest bid | End 2016 | % move |
| Japan yen | 112.340 | 117.07 | +4.21 |
| Sing dlr | 1.353 | 1.4490 | +7.10 |
| Taiwan dlr | 30.220 | 32.279 | +6.81 |
| Korean won | 1134.000 | 1207.70 | +6.50 |
| Baht | 33.100 | 35.80 | +8.16 |
| Peso | 51.380 | 49.72 | -3.23 |
| Rupiah | 13499.000 | 13470 | -0.21 |
| Rupee | 65.140 | 67.92 | +4.27 |
| Ringgit | 4.214 | 4.4845 | +6.42 |
| Yuan | 6.590 | 6.9467 | +5.41 |