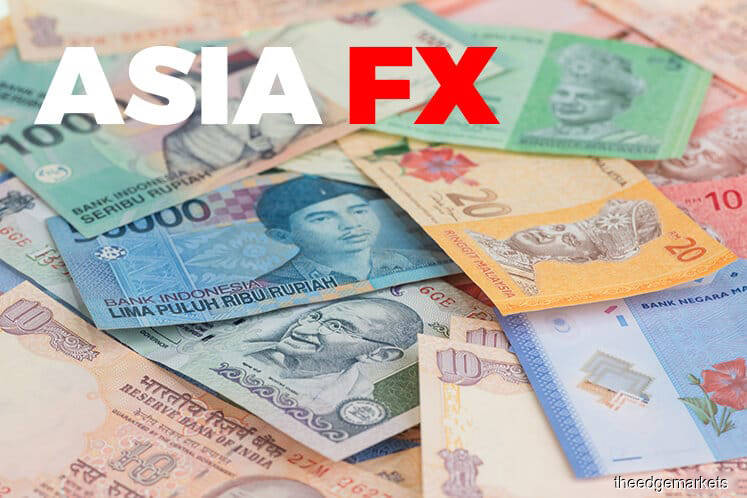 BENGALURU (Aug 27): Asian currencies firmed against the US dollar on Monday, after Federal Reserve Chairman Jerome Powell's speech on Friday dispelled some fears of aggressive monetary policy tightening.
Speaking at a research symposium in Jackson Hole, Wyoming, Powell defended the US central bank's push to raise interest rates as healthy for the economy, but revealed no fresh insights — disappointing dollar bulls.
The dollar index, which measures the greenback against a basket of six other major currencies, was down 0.08%, adding to its 0.5% loss on Friday.
"As far as Jackson Hole, it looks like the dollar bulls were a bit disappointed even more so given that positioning was slightly long USD heading into Powell speech," noted Stephen Innes, head of trading APAC at Oanda.
"It's not like he was dovish, he just wasn't hawkish enough to move the Fed rate hike dial. Therefore, the dollar has remained offered at this morning open as US Treasuries remain bid."
Most Asian currencies are sharply down in 2018 because the Fed has raised its interest rates twice so far this year, which has resulted in foreign investors fleeing the regional bond and equity markets.
The Chinese yuan's surge to a 2½-week high on Monday lifted the regional currencies on the day. The yuan rose after the central bank revived a "counter-cyclical factor" in its daily fixing to support the currency.
The People's Bank of China said on Friday that it was adjusting its methodology for fixing the yuan's daily midpoint in order to keep the currency market stable, amid broad dollar strength and ongoing trade tensions between Washington and Beijing.
The Thai baht led Asian currencies' advances on the day, gaining 0.65% against the dollar. Technical charts showed the USD/THB cut below the 200-day exponential moving average, which is a bullish sign for the baht.
The South Korean won, Philippine peso and the Indonesian rupiah, all gained more than a quarter percent each.
The Malaysian ringgit advanced 0.22%, helped by higher oil prices and lower US bond yields.
In real effective exchange rate terms (REER), the ringgit is still 4% below its 5-year average of 91.12, Thomson Reuters data showed.
"While the ringgit does look incredibly cheap on the surface, the external trade war factors along with domestic political issues continue to hamper the local unit," said Oanda's Innes.
The following table shows rates for Asian currencies against the dollar at 0448 GMT.
CURRENCIES VS US DOLLAR
Change as of 0448 GMT
| | | | |
| --- | --- | --- | --- |
| Currency | Latest bid | Previous day | % move |
| Japan yen | 111.070 | 111.22 | +0.14 |
| Sing dlr | 1.365 | 1.3648 | +0.01 |
| Taiwan dlr | 30.744 | 30.783 | +0.13 |
| Korean won | 1114.200 | 1118.9 | +0.42 |
| Baht | 32.550 | 32.75 | +0.61 |
| Peso | 53.367 | 53.52 | +0.29 |
| Rupiah | 14605.000 | 14637 | +0.22 |
| Rupee | 69.873 | 69.91 | +0.05 |
| Ringgit | 4.098 | 4.107 | +0.22 |
| Yuan | 6.814 | 6.8190 | +0.07 |
Change so far in 2018
| | | | |
| --- | --- | --- | --- |
| Currency | Latest bid | End 2017 | % move |
| Japan yen | 111.070 | 112.67 | +1.44 |
| Sing dlr | 1.365 | 1.3373 | -2.00 |
| Taiwan dlr | 30.744 | 29.848 | -2.91 |
| Korean won | 1114.200 | 1070.50 | -3.92 |
| Baht | 32.550 | 32.58 | +0.09 |
| Peso | 53.367 | 49.93 | -6.44 |
| Rupiah | 14605.000 | 13565 | -7.12 |
| Rupee | 69.873 | 63.87 | -8.59 |
| Ringgit | 4.098 | 4.0440 | -1.32 |
| Yuan | 6.814 | 6.5069 | -4.51 |