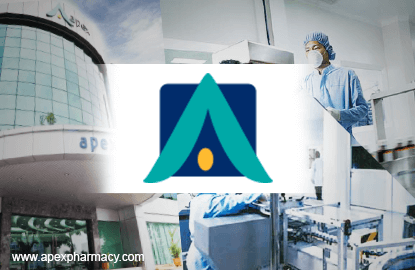 KUALA LUMPUR (Sept 15): Apex Healthcare Bhd is constructing a new oral solid dosage manufacturing facility (SPP NOVO) in Cheng Industrial Estate, Melaka for RM68 million.  
It told Bursa Malaysia today that the construction will be undertaken by its unit, Xepa-Soul Pattinson (Malaysia) Sdn Bhd.
The SPP NOVO will be a newly-constructed stand-alone facility adjacent to Xepa's current manufacturing facilities on the same campus at Cheng Industrial Estate.
The construction of SPP NOVO is expected to commence in the fourth quarter of 2016; and barring any unforeseen circumstances, the facility is expected to be commissioned in the first half of 2018.
"Detailed engineering design has been completed and tenders for construction and equipping are expected to be issued in the current quarter," it added.  
SPP NOVO, said Apex Healthcare, is Xepa's strategic investment to design, build and operate an advanced manufacturing facility for the production and packaging of tablets and capsules.  
"It is targeted at manufacturing for both domestic and international markets, meeting the most stringent certifications and quality requirements that are demanded," it said in the filing.  
It explained that the design approach is to engineer a manufacturing facility that eliminates or reduces human errors, through enhanced automation, digital integration of process control and an expanded building management system.
"The enhanced GMP facilities will increase both capacity and capabilities for the manufacturing of tablets and capsules — a vital component of our strategic plans for the future," it added.  
According to Apex Healthcare, Xepa's current production facilities for oral solid dosage forms, designed and commissioned in 1996, are reaching optimal designed capacity and cannot be further retrofitted economically to increase output.
Shares in Apex Healthcare closed unchanged at RM3.90 today, for a market value of RM455.69 million.