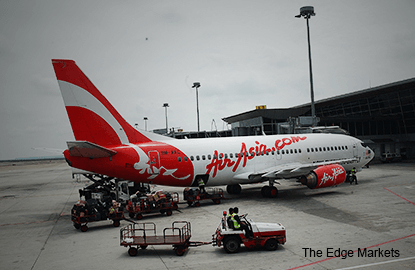 KUALA LUMPUR (Aug 29): AirAsia Bhd's net profit for the second quarter ended June 30, 2016 (2QFY16) jumped 40.77% to RM342.12 million, from RM243.03 million a year earlier, thanks to lower fuel prices and higher revenue.
The low cost carrier's earnings per share rose to 12.3 sen, from 8.7 sen in 2QFY15.
In its quarterly report to Bursa Malaysia today, AirAsia said fuel prices saw a 24% reduction during the quarter to US$59 per barrel, from US$78 per barrel in 2QFY15.
For 2QFY16, AirAsia reported a revenue of RM1.62 billion, equivalent to a year-on-year growth of 22.55%, from RM1.32 billion previously.
AirAsia said revenue was driven by an increase in aircraft operating lease income and supported by a 10% growth in passenger volume, while the average fare was up 8% at RM153 against RM141 in 2QFY15.
"Ancillary income per passenger increased by 5% to RM48 year-on-year. The seat load factor was at 87%, which was seven percentage points higher than the same period last year," the group said.
Aside from Malaysia, all of AirAsia's oversea associate airliner businesses reported a net loss for 2QFY16, except for 45%-owned Thai AirAsia Co Ltd (TAA).
Having said that, AirAsia's share of results of associates remains a positive figure at RM5.52 million in 2QFY16, a drop of 31.21% from RM8.02 million in 2QFY15.  Share of results of jointly controlled entities rose 18.17% to RM5.92 million, from RM5.01 million.
For the first half of FY16 (1HFY16), AirAsia's net profit trebled to RM1.22 billion, from RM392.36 million in 1HFY15, while revenue grew 26.77% to RM3.32 billion, from RM2.62 billion.
Earnings per share jumped to 43.9 sen, from 14.1 sen.
Moving forward in Malaysia, AirAsia said it continues to see strong demands in 3QFY16, with average load factor forecast at 90%.
"For the remaining quarters of 2016, we remain confident as we are continuing to observe strong demand across most sectors. This is coupled with favourable fuel price and a favourable foreign exchange on major Asian currencies against the U.S. dollar," the group said.
In Thailand, AirAsia said TAA's load factor in 3QFY16 is forecast to be 83%, with estimated capacity growth of approximately 3%.
"As with Malaysia, we see encouraging forward bookings in the remaining quarters of 2016, stemming from demand from summer holiday makers. TAA will continue to focus its marketing activities on domestic, China and India routes, in the remaining quarters of 2016," the group said.