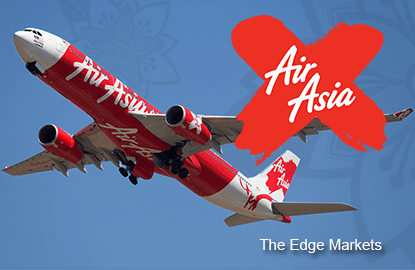 KUALA LUMPUR (Oct 31): AirAsia X Bhd (AAX), the long-haul, low cost airline affiliate of the AirAsia Group, recorded 35% more passengers in the third quarter of this year (3Q16) at 1.22 million, compared to the same period last year, after a 29% capacity increase.
"The double digit growth of passengers carried was partly attributed to the strong demand for travel observed from North Asia and amongst Malaysians during double Eid celebrations in July and September as well as Malaysia Day long weekend," it said in a statement.
AAX said the figures, which came in despite the significant capacity addition during the quarter, exceeded expectations.
It achieved a passenger load factor (PLF) of 78%, up 3 percentage points (ppts) y-o-y, on the back of 34% y-o-y growth in available seat per kilometers to 7.75 billion in 3Q16, it added.
In the quarter under review, Malaysia AirAsia X (MAAX) added frequencies on five routes — Kuala Lumpur-Gold Coast, Sydney, Beijing, Shanghai and Osaka — though it added no new routes. MAAX also returned one A330 in 3Q16, which saw it end the quarter with 22 A330s.
Thai AirAsia X (TAAX), meanwhile, saw a PLF of 85%, up 14 ppts from 71% y-o-y, and carried 71% more passengers in the quarter — 348,839 in all — against the same period last year.
"No new route or frequency increase in TAAX's network this quarter as management zoomed in on turning around the current operating routes and no additional aircraft was added into TAAX during the quarter under review," it said.
Meanwhile, Indonesia AirAsia X (IAAX) recorded a PLF of 77%, up 8 ppts y-o-y, with an unchanged fleet size of two A330s, though it has temporarily suspended its flights to Sydney and Melbourne from Sept 1 due to its network restructuring aimed at improving operational efficiencies at IAAX.
"The company remains cautiously optimistic to ensure sustainable growth and strengthen our position in core markets where we can build up our market leadership position going into 4Q16 as well as 2017," it said.