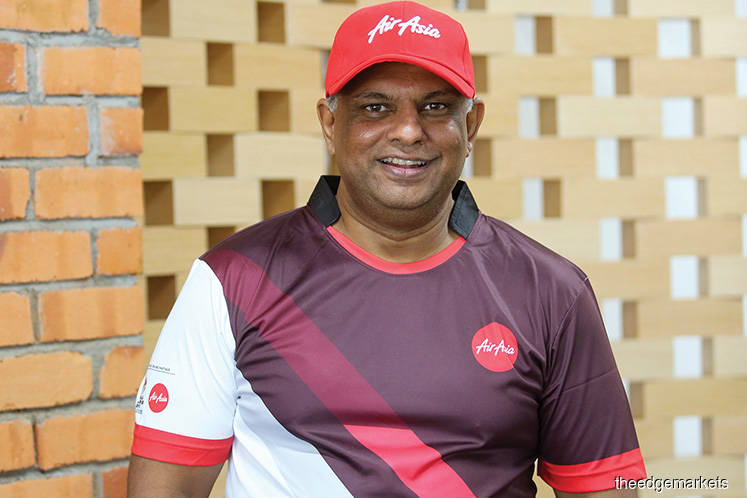 (Sept 4): AirAsia Group CEO Tan Sri Tony Fernandes said his airline is prepared for an inevitable slowdown in the aviation market, as trade tensions, rising fuel prices and volatile currencies create headwinds for the sector.
"Definitely, there is going to be some slowdown in my opinion," Fernandes told CNBC's Oriel Morrison on Friday.
"It's inevitable with trade sanctions and some of the things that are happening in the currency world in emerging markets, " he added.
The outspoken aviation boss said his airline hasn't seen an impact yet, but the business is ready to weather any potential storm, as geopolitical developments — particularly the US-China trade war — could impact confidence and aviation spending.
"We've been through a few of these cycles. Don't forget oil was US$130 at one stage. Generally, we're a little bit inelastic in demand when it comes to recessions because people will trade down to a low-cost carrier from a premium airline if things slow down," he added.
"We're up for it, we're looking forward to 2018 and it's a good opportunity to refocus, re-look at things, cut some cost and build some market share."
Assessing the outlook
Jet fuel is the aviation sector's biggest cost component, and is likely to amount to 25% of overall industry operating costs this year, according to International Air Transport Association Chief Economist Brian Pearce.
Rising fuel prices have been a significant headwind for global carriers despite airlines around the world boasting improved aircraft efficiency, fuel hedging and capacity utilization.
Fernandes said AirAsia will continue to hedge its booking curve, and hinted at playing with fares to "make the difference up."
"We've taken a very conservative view that oil is what it is, and we have to make do. You can get it right and be a hero, or you can get it really wrong as well," he said.
The jet fuel price ended last week up 4.6% at US$90.9 per barrel, and has averaged US$86 per barrel so far in 2018.
Prices have increased 37.5% on year, in tandem with higher crude oil prices, according to analysis by energy and commodities information provider Platts and brokerage Oanda.
"(Demand) remains strong and load factors are healthy, but we continue to face headwinds against us, being high fuel costs and weakening regional currencies," AirAsia said in a statement.
The company said it expects to achieve an average load factor of 83% in the third quarter of 2018, as it ramps up marketing activities in major markets such as China and India, where it continues to build a footprint.
"Barring any unforeseen circumstances, the Board remains positive that the overall results of the Group in 2018 will be favorable," the company said.
Earnings results
AirAsia reported a 147% surge in net profit to RM361.8 million (US$88 million) for the second quarter of the year. That was, however, mainly thanks to a one-off tax benefit from the sale of aircraft last year.
While group revenue also rose 10.3% to RM2.62 billion, net operating profit fell nearly 18% in the quarter to RM324.8 million — as high fuel prices and maintenance costs hit the Malaysian carrier.
"We put in a good set of numbers for the second quarter," said Fernandes.
Higher fuel prices weighed, particularly within the long haul unit, AirAsia X, which swung to a loss of RM57.5 million.
'Surprisingly well'
"AirAsia did surprisingly well, beating our and market forecasts," said Crucial Perspective CEO Corinne Png, who has covered Asian transport equities for over 15 years at J.P. Morgan, Citigroup and HSBC.
The research firm said AirAsia's stock has been oversold, and presents a good buying opportunity when oil prices and the Malaysian ringgit stabilize — even though it has limited fuel hedging and most of its overseas joint venture carriers were loss-making.
"We expect third quarter earnings to be weak as the Malaysian ringgit depreciated further and fares remain under pressure in most of its markets, such as Thailand, India, Indonesia and the Philippines," said Png.
"We are also concerned that AirAsia Malaysia may be adding too much capacity, which may not be absorbed by demand near term," she added.
However, Png said she is confident that AirAsia's earnings will improve from the fourth quarter of this year onward as capacity pressure eases.