This article first appeared in The Edge Malaysia Weekly, on December 11, 2017 - December 17, 2017.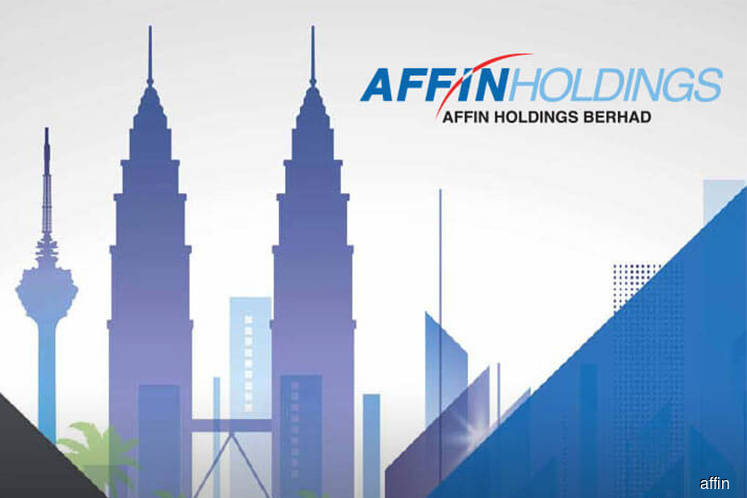 AFTER its poor third-quarter showing, all eyes are on Affin Holdings Bhd to see if the country's second smallest banking group can keep costs in check and deliver on a plan to reduce its cost-to-income ratio (CIR) — the highest in the industry — to under 50% by 2020.
It looks to have gone off track with that target this year due to a one-off cost of RM48 million incurred in the third quarter for its voluntary separation scheme (VSS) and high marketing-related expenses. This pushed its CIR up to 65% for the nine months to date, compared with the industry average of 48.4%. Its CIR stood at 56.5% in FY2016.
Analysts say Affin's operating expenditure (opex) is likely to stay elevated in FY2018 due to its ongoing transformation plan, known as Affinity, which may require additional but necessary expenses.
These include investment in its digital banking initiatives, which is expected to go into full gear next year, and hiring of additional 50-100 staff by this year-end. "We expect elevated CIR in FY2018 due to the digitisation exercise," says Kenanga Research.
Analysts reckon it will be an uphill battle for Affin to meet its CIR target of under 50% by 2020 as costs stay elevated amid moderate income growth. Most expect its CIR to stay at just above the 60% level over the next two years.
Nevertheless, group CEO Kamarul Ariffin Mohd Jamil tells The Edge that Affin is committed to bringing down its costs.
"I would like to stress that we are committed to reducing our CIR to be in line with the industry. Furthermore, we are not expecting any further one-off costs in FY2017," he says via email.
The VSS in the third quarter affected some 330 staff, some of whom will be replaced at lower cost, say analysts.
Affin will still need to hire staff to execute its transformation initiatives.
"Management expects that the positive impact of the VSS will likely come in around a period of 2½ years via cost savings," MIDF Research says. "We believe that the cost incurred due to personnel is currently necessary to ensure that it is operating efficiently. We like the fact that the percentage of front-end personnel to total staff has increased, as this has a direct impact on income growth," it adds.
Affin's mix of support to front-end staff has moved to 50:50, from 65:35, since the start of the Affinity programme.
Its 3Q2017 net profit of RM73.26 million was 47.5% lower year on year (y-o-y) and 50.6% lower quarter on quarter(q-o-q).  Net profit for the cumulative nine months, at RM341.84 million, was down 12.9% from a year ago, due to higher opex — particularly from the VSS — and provisions. Excluding the VSS cost, its earnings would have still been lower, by an estimated 3.6% y-o-y.
It was the only one of the listed banking groups with results that fell below analysts' expectations, with 9M2017 earnings coming in at just 60.8% of consensus estimates for the full year.
Kamarul Ariffin explains the poorer earnings: "The group incurred higher staff cost (VSS and recruitment exercise) as we embarked on our Affinity strategic transformation programme, which is due for completion in 2019.
"Higher recruitment (about 300-plus staff) was mainly for our SME  and consumer banking and control functions. We expect our staff cost to normalise in FY2018. In addition, higher marketing and promotion expenses were recorded due to an increase in our assets under management (AUM) and securities trading volume."
Analysts say Affin's provisions, which grew 29.6% y-o-y to RM28.8 million in 3Q but was 19.8% lower q-o-q, will likely ease in 4Q as it expects several of its large restructured and rescheduled loan accounts — the bulk being in real estate — to be reclassified as performing. Its gross impaired loans ratio stood at 2.16% as at end-September, compared with 2.07% three months earlier.
"We believe the reclassification of these accounts will provide a boost to earnings in FY2019, given the potential writebacks," says MIDF Research.
On a positive note, Affin posted an impressive increase in non-interest income, which grew 37.1% y-o-y to RM673.2 million in the nine months, mainly because of strong fee income growth.
"Our AUM has improved from RM35.5 billion (Sept 30, 2016) to RM43.5 billion (Sept 30, 2017) and we expect our non-interest income largely from our asset management business to continue its growth trajectory," says Kamarul Ariffin.
He says Affin is maintaining its loan growth target of 4% to 5% for this year as momentum is likely to pick up from "several disbursements of corporate accounts, SME and consumer segment". Corporate loans make up slightly more than half of Affin's total portfolio.
Given its attractive valuation, some research houses, including CIMB Research and Kenanga Research, have positive recommendations on Affin's stock. Trading at about 0.5 times book value compared with the industry average of 1.4 times, Affin is the cheapest of the Malaysian banking stocks.
Others, however, have a more cautious stance.
"Despite the cheap valuation for Affin, we believe the stock would struggle to rerate as investors continue to seek asset quality stabilisation and improvement in earnings delivery. Affin may also miss out on the potential interest rate hike boon for banks [next year] given its high proportion of fixed-rate loans (37% of total loans) and low proportion of low-cost funding," says DBS Group Research, which has a "hold" call on the stock.
It expects Affin's CIR to come in at 67% this year before tapering down to 63% by FY2019.
Bloomberg data shows that of the eight analysts who track the stock, five have "hold" calls while three have a "buy", with a 12-month target price average of RM2.61. The stock closed at RM2.34 last Thursday, up just 0.6% year to date.
Meanwhile, Affin's group reorganisation is understood to be on track, with the expected transfer of its listing status to Affin Bank Bhd in March next year.
Save by subscribing to us for your print and/or digital copy.
P/S: The Edge is also available on Apple's AppStore and Androids' Google Play.