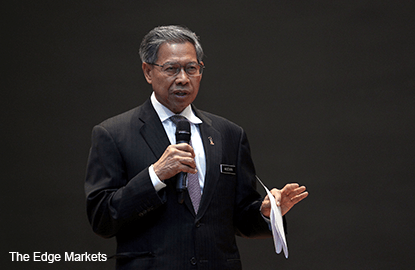 This article first appeared in The Edge Financial Daily, on November 3, 2015.
KUALA LUMPUR: Approved investments in the manufacturing sector for the first nine months of the year is about equivalent to the RM71.9 billion for the entire sector that was achieved for the whole of 2014, according to the Minister of International Trade and Industry Datuk Seri Mustapa Mohamad.
"I'll be making announcements later in the week, for [the quantum from] January to September. The amount of investments approved is about the same as what we achieved for the 12 months last year.
"So, we have done quite well this year, [and] we will continue to work hard to ensure that Malaysia will continue to attract investments, both domestic and foreign," Mustapa told reporters at the Malaysian Investment Development Authority (MIDA) headquarters here yesterday.
According to previously released Miti statistics, the approved investment for manufacturing sector amounted to RM71.9billion in 2014; up until the first half of 2015 (1H15), the sector's investments had reached RM49.5 billion. 
On the frenzy of merger and acquisition (M&A) activities in the global electrical and electronic (E&E) sector recently — which has led to some downsizing of the affected entities' operations worldwide, including Malaysia — Mustapa said their impact on employment here is "not huge".
"There are lots of M&As in the last nine months. According to press report, the value of these M&As is in excess US$100 billion (RM430 billion). 
"When companies merge, there's bound to be some changes in the business model. But as far as we know, the impact on employment [here], in particular, is not that huge," Mustapa said.  
He noted that there were four notable mergers so far this year: the acquisition of EMC Corp by Dell Inc for US$67 billion, the acquisition of Altera Corp by Intel Corp for US$16.7 billion, the acquisition of Sandisk Corp by Western Digital Corp for US$19 billion, and the acquisition of Broadcom Corp by Avago Technologies Ltd for US$37 billion.