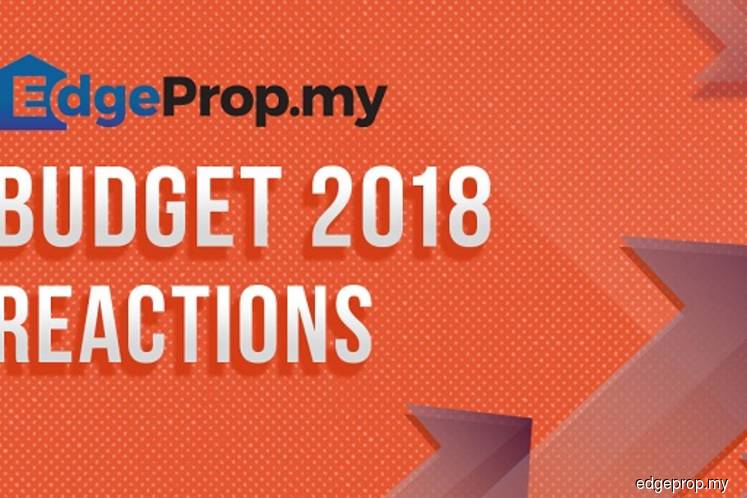 PETALING JAYA (Oct 27): It will be more appropriate if the government granted the 50% tax exemption to tenants as they are the party in need of assistance, instead of rewarding landlords with the Budget 2018 measure to halve tax on rental income, said the Property Management, Valuation and Estate Agency Surveying (PMVS) Division of the Royal Institution Of Surveyors Malaysia (RISM) in a statement today.
Earlier this evening, Prime Minister Datuk Seri Najib Tun Razak announced that in order to promote the residential rental market, for the first time in 60 years, a tax exemption of 50% will be given on rental income of up to RM2,000 from residential properties belonging to Malaysian residents living in the country.
The exemption is effective from 2018 to 2020, and to further strengthen the rental market, the government will also formulate the Residential Rental Act to protect tenants and homeowners.
"It is odd that the government has come up with a scheme of tax exemptions in the rental market by providing a mechanism to offset the rent earned by the landlord (although only 50% and up to RM2,000) against income tax. Probably the government's intention for this is to ensure the lower value property owners have the ability to use this incentive to maintain their properties," said RISM in a statement.
On the other hand, the institution feels the proposed Residential Rental Act is timely as this will provide clarity to the landlord's and tenant's rights as well as protection to both parties.
RISM also praised a measure to deal with abandoned housing, namely the exemption of stamp duty on the loan agreement and instrument of transfer for the rescue contractor and original buyers which will take effect from Jan 1, 2018 to Dec 31, 2020.
"The stamp duty exemption will be very helpful to the long suffering original purchasers of the abandoned projects and also acts as an incentive for the white knights to rescue the abandoned schemes. This should not just cover the residential sector but also the commercial sector," it said.
RISM also said that the government deserves commendation for addressing the growing unaffordability of homes for the majority of the rakyat through numerous endeavours such as the Perumahan Penjawat Awam 1Malaysia, PR1MA, and MyBeautiful New Homes,among others.
"It is indeed good news for the prospective house buyers that the step-up financing scheme will be extended to private developers, thus enabling many more people who do not qualify for financing to pay less in instalments during the early years when their income is low, and to gradually increase the repayment when their incomes increase over the years," RISM said.