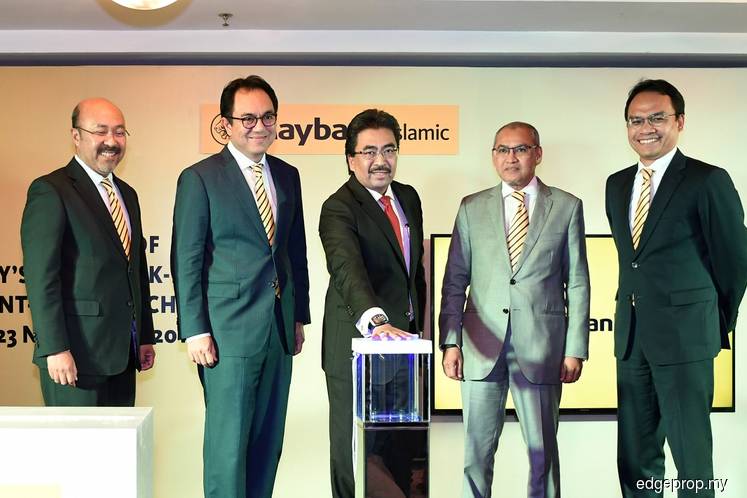 KUALA LUMPUR (Nov 23): To encourage more financial institutions to offer rent-to-own (RTO) as an alternative home financing solution, the government will grant a 100% stamp duty exemption on the sale and purchase agreements (SPA) to homebuyers who attain homeownership under these schemes.
Finance Minister II Datuk Seri Johari Abdul Ghani made the announcement in his speech at the launch of Maybank Islamic Bhd's rent-to-own product HouzKEY today.
He added that the government will also review the real property gains tax (RPGT) to enable those who attain home ownership under RTO schemes be accorded "benefits of ownership" on the date they sign up for the scheme.
"For the RPGT, it's not a gain for the people. They are renting it and then given the option to buy so when it comes to the time for them to buy the property, it's not fair for us to charge them RPGT," Johari told EdgeProp.my on the sidelines of the launch.
In a typical transaction, a first-time homeowner is liable to pay the RPGT if they dispose of their property within five years of purchasing it.
However, under the RTO scheme, a prospective homebuyer is considered to have owned the property upon first signing up for the scheme, and the time where they rent the property from the bank will be factored into the period where they are liable for RPGT.
Offered by Maybank Islamic, HouzKEY will be available to the public in early 2018 following today's pilot launch which is limited to Malayan Bank Bhd's (Maybank) employees.
For the pilot launch, Maybank has partnered five prominent property developers, namely S P Setia Bhd, Eco World Development Group Bhd, Mah Sing Group Bhd, Sime Darby Property Bhd, and Gamuda Land, to offer homes in Kuala Lumpur and Selangor.
"The scheme will be open to the public in early 2018. We intend to progressively expand the listed properties to other states across Malaysia so that as many people as possible can benefit from this new product," said Maybank Group president and CEO Datuk Abdul Farid Alias in his speech at the launch.
Also present were Maybank Islamic CEO Datuk Mohamed Rafique Merican and Maybank Group head of global banking Datuk Muzaffar Hisham.
HouzKEY is an alternative method of home financing by way of lease arrangement based on the Islamic concept of Ijarah (lease) that provides customers with the option to purchase the property.
Farid believes HouzKEY will make a difference for those looking to own a home but find affordability a challenge.
"It will be able to assist customers who have difficulties in securing home ownership owing to the high initial costs. It offers the transparency they need, and certainty of their monthly rental commitments throughout the chosen tenure.
"It will also give them the opportunity to earn capital appreciation on their property via the cash out option; and best of all, the option to purchase the property at a later stage but at a pre-determined price," he said.
HouzKEY is available on Maybank's fully integrated digital platform via its online portal – maybank2own.com.